other titles...
See also...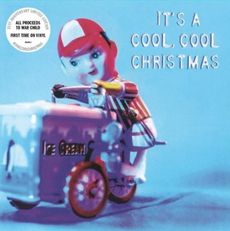 Grandaddy - Alan Parsons In A Winter Wonderland
The Dandy Warhols - Little Drummer Boy
The Webb Brothers - Every Day Is Christmas
Eels - Everything'S Gonna Be Cool This Christmas
El Vez - Feliz Navi-Nada
Morgan - Christmas In Waikiki
Drugstore - Maybe At Christmas Time
Belle And Sebastian - O Come, O Come Emmanuel
Giant Sand - Thank You Dreaded Black Ice, Thank You
The Flaming Lips - White Christmas (Demo For Tom Waits)
Saint Etienne - My Christmas Prayer
Departure Lounge - Christmas Downer
Six By Seven - I Believe In Father Christmas
Snow Patrol - When I Get Home For Christmas
Titan - Spiritual Guidance
Big Boss Man - Christmas Boogaloo
Teenage Fanclub - Christmas Eve
Calexico - Gift X-Change
Gorky'S Zygotic Mynci - Hwiangerdd Mair
Low - Just Like Christmas
Lauren Laverne - In The Bleak Midwinter
It's A Cool, Cool Christmas
Various Artists (2023 repress)
jeepster / war child
War Child's era defining Crimbo collection featuring the frosted cream of the Indie crop – if someone knows of a better musical accompaniment for munching mustard-smeared sprouts, we're all ears.
This collection of songs is the definitive indie Christmas album and includes contributions from a broad spectrum of indie giants, with songs ranging from traditional standards to originals written specially for this collection. This compilation contains both ballads and songs to pogo around the Christmas tree to in equal measure and coincidentally is a compilation of twenty-one songs re-released after twenty-one years.
The highlights are Low's much-loved 'Just Like Christmas', The Flaming Lips and their 'White Christmas (demo for Tom Waits)', the Grandaddy track which is both wistful and amusing and Eels' 'Everything's Gonna Be Cool This Christmas'. In fact there is not a second-rate filler on this album and there's even a track from Lauren Laverne recorded before she became a famous DJ.
The original intention of creating this album was to raise money for a worthy charity. War Child is an amazing organisation that protects, educates and helps children get over the terrible traumas they've suffered from war. The work done in their programmes has alife-saving impact on children and their families in some of the most dangerous places on earth.