other titles...
See also...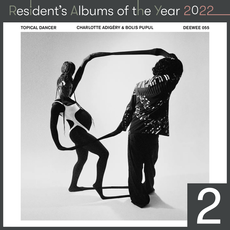 poster (WILL BE signed)
Bel DEEWEE
Esperanto
Blenda
Hey
It Hit Me
Ich Mwen (with Christiane Adigéry)
reappropriate
Ceci N'est Pas Un Cliché
Huile Smisse
Mantra
Making Sense Stop
HAHA
Thank You
CHARLOTTE ADIGERY & BOLIS PUPUL
TOPICAL DANCER
deewee / because music
Marching to the beat of a different drum, 'Topical Dancer' has been a constant on the Resident stereo this year: "These are nocturnal heaters to make the club throb".
When a record is equally suited to dancefloors & headphones alike, the chance of it uniting us Residents is automatically increased & as this Belgian duo's idiosyncratic debut album delivers a collection of cerebral, funky techno-pop anthems, we embraced it in the shop, at home & on stage (their show at Green Door Store was an emotional, jubilant celebration of the album) . In fact, we more than embraced it - we became downright obsessed with it!
Released on Soulwax's Deewee label, it's a triumph of kaleidoscopic, robust electro-pop. It's overtly political, capturing Charlotte & Bolis' perspectives as Belgians with immigrant backgrounds (Charlotte with Guadeloupean & French-Martinique ancestry & Bolis being of Chinese descent), as well as giving them a platform for their eloquent, tongue-in-cheek jabs at racism, misogyny & xenophobia. Although the intelligent messaging is front & centre (delivered in an entrancing mixture of English, French & Creole), these off-kilter tunes BANG. Hard. On every listen.
"Whether it's pliant 00s club bangers, extravagant 80s pop or Moroder-ish Italo disco, [they] have an uncanny knack for bending the familiar into something fresh & exciting" - Beats Per Minute
"With licence to run amok amongst Soulwax's banks of synthesisers, the novice duo has delivered an end product that must be, beyond [their] wildest expectations" - Louder Than War