Hannah Peel & Paraorchestra
The Unfolding
REAL WORLD RECORDS
---
A magnificent 8-part exploration of sound from a constantly evolving artist who never stays still & dodges clumsy categorising with ease.
'The Unfolding' is no exception to this. It's soft & sweet, it surges, & swells, always progressing the notion of what an orchestra is & can be.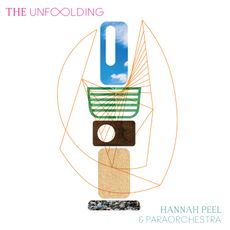 Dinked edition (Blue Sparkle)
Indies Only (fluorescent orange)
The Universe Before Matter
Wild Animal B1. Passage
The Unfolding
If After Weeks Of Early Sun
Perhaps It Made Us Happy For A Minute
We Are Part Mineral
Part Cloud
The Unfolding Credits Instrumental Version (vinyl exclusive - not on CD)
The Unfolding Credits

Dinked edition 165


- blue sparkle 2LP *
- Bespoke front cover colourway *
- Hand numbered art print *
- Gatefold sleeve & printed inner sleeves.
- Exclusive vinyl only track
- Limited pressing of 750 *
* exclusive to dinked edition