CROWS
Beware Believers
Bad Vibrations Records
---
CAW!! You ready to be blown away by one of our very favourite racket makers? Loud, cathartic & abrasive - a quintessential Crows record this certainly is!

Equal parts ferocious & hedonistic, the London four-piece's 2nd album (following their 2019 debut on the IDLES-run Balley Records label) conjures a dark & visceral post-punk.
It's been hardened by years of notoriously rowdy live shows (we've seen many of you at the shows & some of you will even have had the pleasure of seeing them play up close & personal on our shopfloor). We're stoked to be presenting their outstanding new offering to you for preorder. We are massive fans of the band's aesthetic too & as you can see, this awesome Dinked Edition package is a real celebration of everything they are about, in full monochrome glory!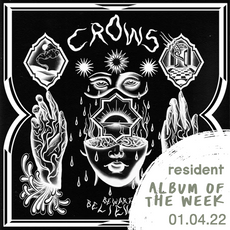 dinked edition



bone colour vinyl
Closer Still
Garden of England
Only Time
Slowly Separate
Moderation
Healing
Room 156
Meanwhile
Wild Eyed & Loathsome
The Servant
Sad Lad
Dinked edition 168

- 180g Black & White Swirl Vinyl*
- A5 Lyric & Illustration Booklet *
- A2 Poster *
- Stickers *
- Tip-On Gatefold Sleeve
- Printed Inner Sleeve *
- Hand Numbered *
- Limited Edition pressing of 500

*EXCLUSIVE to Dinked Edition