other titles...
See also...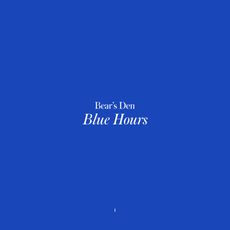 New Ways
Blue Hours
Frightened Whispers
Gratitude
Shadows
All That You Are
Spiders
Selective Memories
On Your Side
All The Wrong Places
Dinked 170
Crystal Clear vinyl *
Exclusive art print *
Hand-numbered *
Printed inner sleeve
Spot gloss outer sleeve
Limited Edition pressing of 750*
*EXCLUSIVE to Dinked Edition
Bear's Den
Blue Hours
communion
Oh boy! This is a deliciously epic set that soars, shimmers, enthrals, stirs & delights throughout – you won't be feeling blue after spending hours with this record.
The much-loved duo of Andrew Davie & Kevin Jones release their 4th album & we're thrilled to have been given the chance to work with their trusty label, Communion Records, to offer this Dinked Edition of 'Blue Hours'.

If you've been burrowing down with Bear's Den throughout their career to date, you'll know what a quietly special band they are. Their alt-folk-synth-rock isn't a million miles away from the muscular anthems of The National or Elbow - they share a similar mastery of bold strokes versus a lightness of touch & these guys are gradually following the same stadium-filling trajectory as their forebearers.


After taking a short hiatus throughout most of 2021, Bear's Den are now back to break their silence as they reemerge with the outstanding offering 'All That You Are.'
Speaking about the new release, the band's Andrew Davie said, "'All That You Are' is a song that was born on Bear's Den's first ever tour - The Austin To Boston tour way back in 2012. It's been a soundcheck jam for so long and feels like an intrinsic part of what Bear's Den stands for as a band even if it's been unreleased for so long." Originally appearing in the 2012 documentary 'Austin To Boston,' which also featured live performances from Ben Howard, The Staves, and Nathaniel Rateliff, 'All That You Are' is a warm and effervescent addition to their ever-growing repertoire.
Recorded in a studio for the first time, this single aims to ignite the next phase of the band's musical evolution as they ready themselves for more new music to come. "It's a song fundamentally about hoping for happiness for someone else even if you can't be the one that makes them happy. It's also about not being ashamed about looking for that same happiness for yourself." Davie explains. "In a way it feels like a mission statement of the band to reconnect with this song from way back when and to perform it unashamedly with a bold and beautiful string arrangement from Sally Herbert and some beautiful performance from some friends of ours both old and new.
"The opportunity to work with Sally Herbert (Rex Orange County, Florence and the Machine, Liam Gallagher) was a real dream of ours, together with the fantastic Matt Douglas (Bon Iver, Sylvan Esso) on Clarinets/Saxophone and Paul Frith on horns. "We hope you enjoy it."