Yama Warashi
Crispy Moon
prah recordings
---
The Japanese artist's bold advancement in sound has us equally hypnotized & energized with its colourful, fizzing, psych-jazz-electronica.
On her 3rd album, the brilliantly titled 'Crispy Moon', there's a marked move away from the more lo-fi, homespun feel of early releases such as 'Moon Zero' & 'Moon Egg'. There's larger brush strokes at play, a bigger sound & an understated but self-assured grandeur.
Yoshino Shigihara had been based in Bristol ever since co-founding the now defunct Maloya-infuenced raucous psychedelia collective Zun Zun Egui (what a band!!). She then blossomed on her own across an EP & 2 albums of more meditative but no less territorially transcendent records as Yama Warashi. Now residing in London, she recorded 'Crispy Moon' at the Total Refreshment Centre with mastering by Zun Zun Egui guitarist Stephen Kerrison & contributions from Cathy Lucas of Vanishing Twin (with whom Yama toured with in 2021).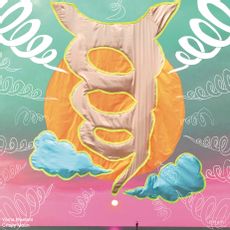 Tracklist
Makkuroi Mizu
Dividual Individual
Saku Saku
Umi No Mon
Ha Ha No Uta
Makai No Keyaku
Dou Dou Meguri
Yuru Yuru
Chokkan To Mousou (dinked edition flexi only)
Dinked edition 172

- Yellow coloured vinyl *
- Obi strip *
- Flexi disc with exclusive track *
- Hand-numbered
- Limited pressing of 350 *

* exclusive to dinked edition