cosey fanni tutti
RE-SISTERS:The Lives and Recordings of Delia Derbyshire, Margery Kempe and Cosey Fanni Tutti
faber & faber
---
From the acclaimed author of Art Sex Music comes a vital meditation on womanhood, creativity and self-expression, and a revelatory exploration into the lives of three visionary artists.
Re-sisters is the story of three women consumed by their passion for life, a passion they expressed through music, art and lifestyle — their recordings. In 2018, boundary-breaking visual and sonic artist Cosey Fanni Tutti received a commission to write the soundtrack to a film about Delia Derbyshire, the pioneering electronic composer who influenced the likes of Aphex Twin and The Chemical Brothers.
While researching Derbyshire's life, Tutti became immersed in her story and uncovered fascinating parallels with her own life. At the same time, Tutti began reading about Margery Kempe, the fifteenth-century mystic visionary who wrote the first English-language autobiography. The connections between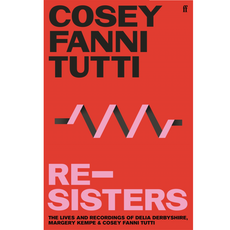 limited deluxe box set edition
This Limited Edition box contains a fine bound copy of the book, signed on page one by the author and numbered by hand; a pewter erotic pilgrim brooch with Re-Sisters waveform motif, in a velvet pouch; and an audio tape cassette with Music to Read By composed and performed by Cosey Fanni Tutti in a colour printed cardboard sleeve. The box will be supplied wrapped in kraft paper with a label, numbered by hand to match the number of the book in the series.