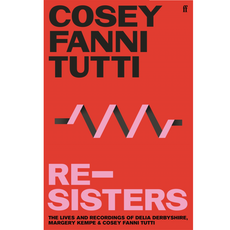 limited deluxe box set edition
This Limited Edition box contains a fine bound copy of the book, signed on page one by the author and numbered by hand; a pewter erotic pilgrim brooch with Re-Sisters waveform motif, in a velvet pouch; and an audio tape cassette with Music to Read By composed and performed by Cosey Fanni Tutti in a colour printed cardboard sleeve. The box will be supplied wrapped in kraft paper with a label, numbered by hand to match the number of the book in the series.
cosey fanni tutti
RE-SISTERS:The Lives and Recordings of Delia Derbyshire, Margery Kempe and Cosey Fanni Tutti
faber & faber
The former Throbbing Gristle noise-wrangler & all-round creative extraordinaire expanded her literary skills to thrilling effect with this tale of 3 entwined, rule-dissolving women.
The real sucker punch here is that very little has changed over the 600 years that separates them.
"Tutti has proved to be as fearless, knowledgeable & incisive a writer of words as she has been a left-field experimental artist" – The Guardian