NURSE WITH WOUND
The Ladies Home Tickler (expanded edition)
Dirter Promotions
---
This expanded collection is the definitive version of The Ladies Home Tickler.
An essential historical document for the new and lifelong NWW follower. Classic tape cut ups, radio sludge, surrealism and abstract chaos. The birth of NWW, a project that is now in its 5th decade. Recorded back 1980, the NWW line-up for these recordings was: Steven Stapleton: Record player, cassette machine, noise. Jim Thirlwell: Bass, ergonomic jack plug, Wasp. William Bennett: Guitar, Wasp.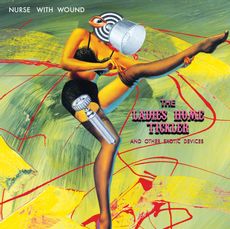 Registered Nurse (The Second Coming/Come Organisation)
BONUS TRACK- Nana or a thing of uncommon nonsense
Back, Sack and Crack (Oxymoron version, Automating Vol 1/United Dairies
BONUS TRACK – Human, Human, Human…
Duelling Banjo's (Hoisting the Black Flag/United Dairies)
BONUS TRACK – Wisecrack
Registered Nurse (Tickler version)
BONUS TRACK – Monsanto Moon Perfectly and loving remastered by Andrew Liles.