other titles...
See also...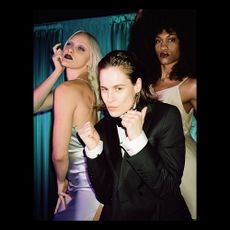 1. Ma bien aimée bye bye
2. Tu sais ce qu'il me faut
3. La chanson du chevalier
4. Rien dire
5. La clairefontaine
6. Les étoiles
7. Mémoire des ailes
8. Looking for love
9. My birdman
10. Combien de temps
11. Je te vois enfin
12. Angelus
13. Les âmes amantes
CHRISTINE AND THE QUEENS
REDCAR LES ADORABLES ETOILES
because music
On this 3rd album, the beats are still immaculate but there's a slightly disquieting undertone that courses beneath the 80's indebted experimental disco nod.
Sophisticated art-pop that never fails to astonish, engross & enamour. As Redcar, the artist's new alias, his epic concepts & intricate sound design play out in a potent way. Part opera, part concept album, part eerily fizzing synth odyssey, it's distinctly delivered with French vocals. More expansive, more mysterious, more theatrical & less straightforward, 'Redcar Les Adorables Étoiles' reaches well beyond the pop structure of previous albums & opens up a new chapter - both in identity & musicality.