sorry
anywhere but here
domino
---
Sorry instore & signing.

Friday 7th October 2022, 6.30pm
(all ages - under 14s can come for free)
preorder any format above with "instore entry" for guaranteed priority entry for you & a guest.
As this album is due to be released on the same day as the instore, we strongly advise for you to select 'pick up in shop' to ensure your record is with you for the signing and to avoid any disappointment with postage.
Produced alongside Portishead's Adrian Utley in Bristol, their second album is an angular, acerbic, bittersweet triumph. London once again features as a prominent character on Sorry's second studio album, Anywhere But Here. 'If our first version of London in 925 was innocent and fresh-faced, then this is rougher around the edges. It's a much more haggard place,' Louis says. Earwigged conversations, text messages, snatched speech recorded underground; the city's discarded words fed into the lyrics which map the experience of urban life on a young and frustrated generation.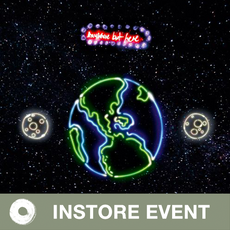 Tracklist