the big moon
here is everything
fiction
---
** Personalised editions available!! **.


To get your copy personalised, just follow these steps :
- order a 'personalised edition' above
- place the message you would like to receive from The Big Moon in the comments box (100 characters with spaces or less, and please keep it sane, not creepy, and sanitary!!)
- we'll then get them to sign accordingly and you'll receive your fancy, individualised edition after release!!

______

Thankfully, one constant in this ever changing world is this london band's collective ear for melody and knack for writing smart, sharp, and infectious indie-pop knockouts. Like so many records landing in store and on streaming services right now, Here Is Everything was conceived during the weight and worry of lockdown in a pandemic. Worlds were turned upside down and inside out. Lives became seismically different, whilst every day a carbon copy of the last. So, whilst Covid pulled the duvet tightly up over our heads and sat on it whilst we muffle-screamed that we could not breathe, it was also the unlikely backdrop to welcoming new life. Vocalist Juliette Jackson might have started lockdown teaching fans how to play guitar on Zoom to help pay the rent (including, to her eternal bemusement, one Courtney Love), she ended it as mother to a super little human being. Here is Everything documents the arrival of that fragile but mighty baby in real time, and the excitement and fear felt by this fragile but mighty mother. Meanwhile, the rest of the band doubled-down in the studio, taking Jules' embryonic song frameworks and stepping forward as one, revelling in an innate, giddy togetherness and with a clutch of genuinely fantastic tunes. The record is introduced today by Wide Eyes, a pure, uplifting song of collective jubilance. It sounds like a band in the form of their lives, having the time of their lives, and against all the odds. It sounds instantly like The Big Moon whilst sounding unlike any of the music that's gone before it.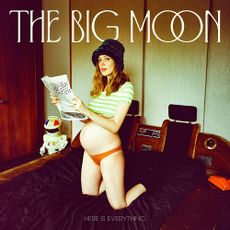 Tracklist
2 Lines
Wide Eyes
Daydreaming
This Love
Sucker Punch
My Very Best
Ladye Bay
Trouble
High & Low
Magic
Satellites