Abraxas
Monte Carlo
suicide squeeze records
---
Twirling guitar lines, hazy vocals and juggernaut drums drive this psychedelic tour-de-force through wavy heat lines of the equator-spanning Americas, across lapping oceans and into our eager ears.
It's a joyous Gnostic ride that captures the bouncy energy of carnival in pitch-perfect, intimately realised detail and re-situates it in an imagined Monte Carlo, haunted, empty and lost to time. There are nods here to a whole host of influences, ranging from the niche (The Cleaners From Venus) to the broad (Ennio Morricone) but ultimately this sound is the unique combination of its creators - Carolina Faruolo (ex-Los Bitchos) and Danny Lee Blackwell (Night Beats).

Their disparate approaches ultimately help to position Abraxas in a world entirely their own, dishing out soaring psych and the sort of laid-back dembow rhythms that ought to kick-start the hips of both Buena Vista Social Club and reggaeton fans alike.

FFO: Khruangbin / Buena Vista Social Club / Los Bitchos / Ennio Morricone / Night Beats / The Bees / Mdou Moctar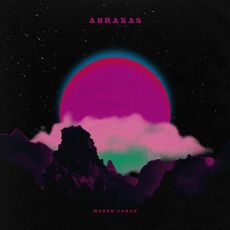 Sunrise State (Of Mind)
Mañana
Sultan
Monte Carlo
La Estampida
Hourglass
Prismatic
Yes
Golden
Fuji
Shapeshifter
Göbekli Tepe

Dinked edition 216

- "Alien Whirlpool" Aqua Blue with Black Splatter colour vinyl *
- 3 x Postcard Set *
- 12" insert *
- OBI-Strip
- Numbered *
- Limited Pressing of 400

* EXCLUSIVE to Dinked Edition