tom odell
Best Day Of My Life
UROK / mtheory
---
The Best Day of My Life album is the culmination of a new chapter, seeing a stripped back, incredibly vulnerable side of Tom's soul.
Having fulfilled his major label record deal in 2021, singer-songwriter Tom Odell began to look ahead to a new era, a new way of working, and embarked on an independent new chapter of his acclaimed career that sees him reclaiming control and taking back the reins of his artistry.
Armed with a newfound sense of freedom and creative control, this new era of Tom's career sees him take focus off hooks and strategy and instead create an environment where his audience can sit with the music and breathe. The result is an album designed as a work of minimalist beauty, comprising just Tom's voice, a piano, and the occasional creak of a stool.
Tom's haunting melodies and melancholy piano accompaniment, paired with his signature introspective lyricism makes for a beautiful 12-song album. Best Day of My Life is an album that's heartfelt, emotionally raw, and classically Tom Odell.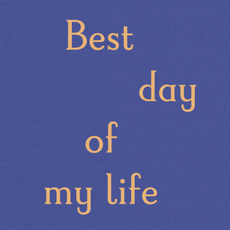 cd & cassette artwork :