Oh Wonder
album launch show
at resident music, brighton - wednesday 12th october 2022 (all ages - under 14s can come for free)
---
• running timings : 6:30pm start.
• no actual tickets are issued for the show – you will get an order confirmation & your name will be added to the guestlist - you'll just need to give your name on the door.
• the release date for physical copies of this album is 7th october 2022. no copy will be available to collect / will be shipped before this date.
• please wait for an order notification to show your album is ready to collect before coming in to collect your copy.
• this page is for entry to the oh wonder instore show - to purchase *signed* copies of '22 make / 22 break' without entry to the show, please head here : 2cd / lp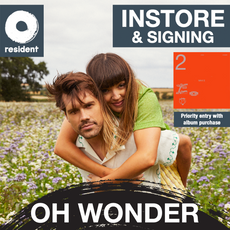 22 Make' is the surprise second half of the alt-pop-duo's '22 Break' project, a brand new album they dropped with little warning towards the end of 2021.

The band's most powerful and intimate music thus far, it unpicked a turbulent period in the incredible story of Oh Wonder: here were universal themes (loneliness, inadequacy, resentment, fears for the future) as experienced by one couple in real-time, all blown up in the pandemic. Not many bands can make a break-up album that culminates in them tying the knot - but then again, Oh Wonder have never been like other bands.

Coming out of '22 Break' and all the soul-searching that it forced them to do, Josephine and Anthony got married and channelled all this into '22 Make': a whole new album set for release on July 22nd, soundtracking the light at the end of a tunnel and completing the dual project (with 11 songs on each half). "When we nearly broke up during the pandemic, we used music as a way out," Oh Wonder write, introducing the project in its entirety.

"We wrote all our pain, sadness and confusion into a collection of songs that we eventually released as the album, '22 Break'. But for us, that was only half of the story. We managed to survive our rocky patch, and emerge stronger than ever and full of love for each other. It only felt right therefore, to write about the other side, where you realise not just that you're meant for each other, but also that it also takes two people to make a love flourish. We are thrilled to be releasing '22 Make', an album full of love and life-affirming songs that reflect on fate, gratitude and being there for someone."
Baby
Down
22 Break
Free
Don't Let The Neighbourhood Hear
Dinner
Rollercoaster Baby
Love Me Now
You > Me
Kicking The Doors Down
Twenty Fourteen