other titles...
See also...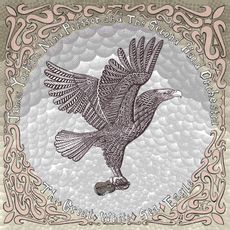 Sam & Jeanie McGreagor
An Upturned Crab
Keeping Up With The Grandchildren, Yeah
The Heavy Lyric Police
A Sweetness In You
A Forestful Of Rougues
Peter Paulo Van Der Heyden
Mary
Hold Out For Love
The Harmony
The Great White Sea Eagle
A Hollow Skeleton Lifts A Heavy Wing
Wake in the cracks (dinked flexi exclusive)
dinked edition 226:
- Oxblood Colour Vinyl *
- Bonus Flexidisc featuring exclusive track 'Wake In The Cracks' *
- Numbered edition *
- Limited pressing of 500 *
*EXCLUSIVE to Dinked Edition
James Yorkston, Nina Persson & The Secondhand Orchestra
The Great White Sea Eagle
domino
An unusual musical ensemble that sees the super-talented Scotsman extend his highly acclaimed collaboration with The Secondhand Orchestra, to include the Swedish songstress, Nina Persson (The Cardigans).
And they've got these sweeeet organic arrangements buttoned down perfectly!

'The Great White Sea Eagle' is the follow up to James Yorkston and The Second Hand Orchestra's 'The Wide, Wide River' - a Guardian Top 10 Folk Album of 2021.
In his Fife studio, Yorkston started writing songs on the piano, as opposed to his usual guitar, as he gazed upon the sea outside his window and with this shift came thoughts about other changes that could be made to the process, which led to the involvement of their guest singer.
They followed the same methodology as 'The Wide, Wide River' – apart from James, Nina and KJ, none of The Second Hand Orchestra had heard the music prior to entering the studio – and the arrangements were made up on the spot. Says James of the recording process: "The thing that they all had was the ability to give each other space and to come up with their parts based on what other people were playing naturally was a very quick process, and they were all so open, nobody was egotistical. Everything was just happy. I love the wildness in it."

Whilst there is a lightness in sound to 'The Great White Sea Eagle', there is a dark humour throughout and the album conveys a rich message about life and grief, family and nature. James' song for Frightened Rabbit's Scott Hutchison, "A Sweetness In You", being one such moment.
FOR FANS OF: The Unthanks / Willy Mason / King Creosote / The Pictish Trail / Cass McCombs