other titles...
See also...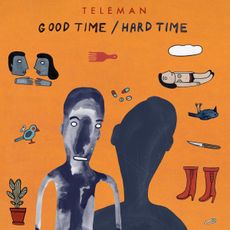 Short Life
Trees Grow High
Wonderful Times
Easy Now I've Got You
Cherish
Hello Everybody
I Can Do It For You
The Juice
The Girls Who Care To Stay
Good Time/Hard Time
somebody tell me it's alright (dinked 7" exclusive)
short life demo (dinked 7" exclusive)
Dinked edition 227

- "Watermelon" Red & Black half & half colour vinyl*
- Bonus 2 track 7"*
- Signed print *
- Sticker sheet
- Numbered edition *
- Limited pressing of 500

*EXCLUSIVE to Dinked Edition
teleman
Good Time/Hard Time
MOSHI MOSHI
4 albums in, 1 man down, double the energy – the incredible force of nature that is Teleman returns to make sense of our world in chaos & their words of wisdom are a vital reminder that even when things seem heavy, life is precious.
Their music & lyrical stream of consciousness is entwined as they navigate new beginnings. With classic Teleman style, 'Good Time / Hard Time' is their most dancefloor-friendly record to date & we've fallen head over heels for them once again.

Following the departure of the band's long-time keyboard player Jonny Sanders to focus on his film & design work, Peter Cattermoul now leads on keyboard duties & Hiro Amamiya slides seamlessly between drum machine, live drums & even the odd keyboard solo as it captures the bounce of choice cuts from their own DJ sets such as Metronomy or the classic disco of Boney M, Giorgio Moroder, early house music & 80s vibes - all the while doused in their trademark blend of uplifting melancholy.

FOR FANS OF: Foals / Metronomy / Warmduscher / B.C.Camplight / Django Django / Field Music / Dutch Uncles

"terrific motorik indie" The Guardian
"electro-pop lift-off: circular grooves, dancefloor bounce, reflective, John Foxx-ish synth drift and even Buggles-ish new wave" MOJO
"Teleman stand alongside Metronomy, Field Music and Dutch Uncles in the smart pop ranks, yet sound unlike any of them." - Uncut