Nighttime
Keeper Is The Heart
ba da bing
---
A work of art awash in personal awakenings that revel in the freedom of intuition, the lifting of veils & the beauty of transformation.
Eva Louise Goodman's enchanting, otherwordly psych-folk will caress & nurture the weariest of minds & leave a fuzzy warmth in your heart. Don't let this one pass you by.

The third album from the New York singer/songwriter who previously played with Mutual Benefit. Eva Louise Goodman's Nighttime project locates itself on a musical tree planted on the British Isles, perched atop the branch of folk leaning into sixties rock. Her upstate New York environs don't stray far from that image. With tempered percussion, floating mellotron & singing that evokes Bleecker & MacDougal on a fervent Saturday afternoon, her new album 'Keeper Is The Heart' reaches deep into the essence of musicians such as Vashti Bunyan, Sibylle Baier & Pentangle, breaking down the decades into a sound thoroughly & bizarrely modern. She therefore equally recalls modern loves of ours like Widowspeak, Florist (with whom she shares a producer) or Cassandra Jenkins.
FOR FANS OF: Vashti Bunyan / Sibylle Baier / Pentangle / Widowspeak / Cassandra Jenkins / Florist / Indigo Sparke

"As a huge fan of Florist and Vashti Bunyan, this record slips seamlessly into my collection. The blend of psych and folk is perfection. This is my favourite introspective, soothing album of the year so far (a whole 20 days in already!). The Dinked package extends the beauty of the overall project, so I'd urge people to take time for themselves and really dive into the Nighttime"

- Jamie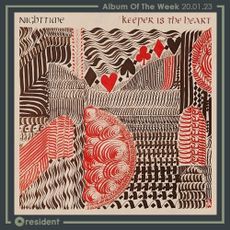 dinked exclusive poster
Veil
When the Wind is Blowing
Curtain is Closing
The Fool
The Way
Garden of Delight
Ring of Fire
Spring, You Come Again
Feeling the Weeks
The Sea
Across the Ocean of Time

dinked edition 233

- "Dark Nightshade Red" LP*

- A4 art poster of exclusive art*

- Signed & Numbered Edition*

- Limited Pressing of 300*

*EXCLUSIVE to Dinked Edition