other titles...
See also...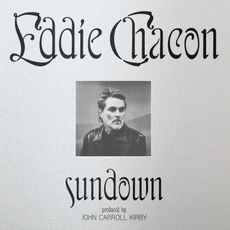 Step By Step
Far Away
Comes and Goes
Sundown
Holy Hell
Haunted Memories
Same Old Song
The Morning Sun

Dinked edition 235

- 180g audiophile opaque silver vinyl *
- Fold-out 18" x 24" poster *
- OBI strip *
- Limited pressing of 500

*EXCLUSIVE to DInked Edition
Eddie Chacon
Sundown
stones throw
Want somethin' nice 'n' squelchy, casually funky & deliciously soulful? Yep – us too! And that's why the new album from this R&B legend got a unanimous thumbs up from those of us responsible for curating the Dinked Editions.


'Sundown' is Eddie Chacon's (of Charles & Eddie fame) mellow, low-key, meditative second solo album (& his debut for Stones Throw Records). It's been written with & produced by multiple Grammy-nominated producer & artist John Carroll Kirby (Solange, Harry Styles, Steve Lacy).


FOR FANS OF: Charles Stepney / Nick Hakim / John Carroll Kirby / Khruangbin / Childish Gambino