ORBITAL
Optical Delusion Instore Signing
at resident music, brighton - tuesday 21st february 2023 (all ages - under 14s can come for free)
---
Legendary electronic music duo Orbital return in Spring 2023 with new album Optical Delusion, the Hartnoll brothers first studio album since 2018's Monsters Exist.
Recorded in Orbital's Brighton studio, Optical Delusion includes contributions from Sleaford Mods, Penelope Isles, Anna B Savage, The Little Pest, Dina Ipavic, Coppe, and perhaps most surprisingly, The Medieval Baebes.
• running timings : 6:00pm start.
• no actual tickets are issued for the show – you will get an order confirmation & your name will be added to the guestlist - you'll just need to give your name on the door.
• the release date for physical copies of this album is 17th february 2023. if you have selected 'pick up in shop' you will be able to collect the album at the show.
• please wait for an order notification to show your album is ready to collect before coming in to collect your copy.
• this page is for entry to the orbital instore signing - to purchase signed copies of 'optical delusion' without entry to the show, please head here.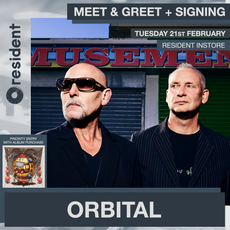 Ringa Ringa (The Old Pandemic Folk Song) (feat. The Mediaeval Baebes)
Day One (feat. Dina Ipavic)
Are You Alive? (feat. Penelope Isles)
You Are The Frequency (feat. The Little Pest)
The New Abnormal
Home (feat. Anna B Savage)
Dirty Rat – With Sleaford Mods
Requiem For The Pre Apocalypse
What A Surprise (feat. The Little Pest)
Moon Princess (feat. Coppe)