other titles...
See also...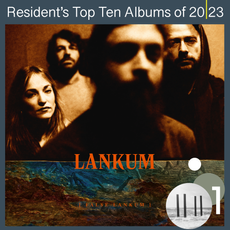 resident exclusive 'martello marine' 2lp
Go Dig My Grave
Clear Away In the Morning
Fugue I
Master Crowley's
Newcastle
Fugue II
Netta Perseus
The New York Trader
Lord Abore and Mary Flynn
Fugue III
On a Monday Morning
The Turn
LANKUM
False Lankum
Rough Trade Records
Placing such a dark, brooding, and sonorous record at the top of our album of the year list might seem like a signifier of the state of the world right now.
But, whilst reality is often an unmanned bin-fire hurtling down rickety tracks, Lankum's fourth album isn't one to wallow. Quite the opposite, in fact. It's a record as much about steely determination as it is about tradition and experimentation.
And tradition and experimentation appear here from the very off.
Rumbling atmospherics
and whispered voices form the Dublin quartet's interpretation of 'Go Dig My Grave' as swung percussion clashes down, shovel-like. It's not alone - the trad narrative tale of 'Lord Abore and Mary Flynn' is beautifully reimagined whilst the heartrending 17th century ballad - 'Newcastle' its heavily upon its listener. Its lyrical content, tone mastery, and sheer, forlorn approach provide seabed-grazing weight. There's a raging fire in their folk compositions. A refusal to accept circumstances. It burns like a peaty whisky down dry, chapped throats.

"The album recasts traditional songs in an epic, dense, enveloping and impossibly powerful sound-world" - The Guardian

Lankum are heavy. Canyon-carving, drone heavy. It provides the spine of the album. Infusing tracks such as 'On a Monday Morning' with a gloomy, leaden cloud as if following a weekend's vigorous imbibing. It's that dark dog snapping at your heels, a tenebrous fug behind the eyes. Everything is a-fumble. A life barely grasped by clumsy hands as they sing "Wrong end of the week for a smile." That ever present drone grounds actuality beneath finger-picked bucolics on 'Netta Perseus' taking a turn in the second half to recall latter day Swans or Current 93. Its imposing rhythms and resolutely pained strings speak of suffering and grit amongst adversity.

For Fans Of: Shovel Dance Collective / Shirley Collins / Nick Cave & The Bad Seeds / Syd Barrett / David Coffin / ØXN / One Leg One Eye / The Pogues

But that's not the whole story either. Lankum display their punk heart on 'New York Trader' through a galvanising use of dynamics. This shanty song, telling of murder at sea, is hooked with the raw ache of Irish lore. Its wild abandon is self medication through song, drink, and dance. This relatable catharsis is also present in 'Master Crowley's'. It's a jig befitting the great beast of the song's namesake. Frivolity and joy soon descend into Dionysian chaos. Round and round and round it goes. Where it will stop, nobody knows. Lugubrious and ominous, sounds of gates yawning open and slamming shut cut in but the jig carries on. There's hope in the darkness. Perseverance through adversity. A reason to lift the spirits despite wanton despair.

See-sawing harmonies populate the fugues which tie the whole thing together. At times they're a palette cleanser, or a midnight breeze through unsettled shipyards, at other times, a pair of hands grasped around your ankles, dragging you down into the mire. But by the time we reach the finale 'The Turn', they've built the weight of the ocean bearing down on a hull barely holding. Syd Barrett-esque harmonies emerge over gentle strums. "We'll find better days." The vocals may seem funereal but, yet again they push forward with optimism, shaking off the shackles of disappointment. Chin up and facing the wind as red eyes fill. Voices singing "hope, it's the only way" submerge beneath pitching drones and clacking percussion as glints of sunlight go softly out.

The pressure builds and builds.
Does it ever alleviate?
Or do we learn to live with it?

'False Lankum' is an album not just for our times but for all times. It is an epic. An opus. Their crowning achievement. Which, seeing as it follows the high water mark of 'The Livelong Day', is an astounding, jaw- dropping accomplishment. It offers quiet strength in the darkest of nights and is a lifeboat tossed to those lost at sea. In short, it's just what we need.
"Simultaneously rooted in centuries old murder ballads and darker than dark post rock/post metal/post everything experimentation, 'False Lankum' could be the soundtrack to a wind battered medieval plague procession or a postapocalyptic blasted landscape. This will sit in your collection right next to 'Skeleton Tree', 'Double Negative' or 'The Seer' as much as any of the traditional folk greats." - Derry