other titles...
See also...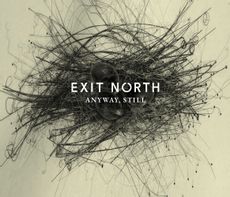 I Only Believe In Untold Stories.
Your Story Mine
The Unforeseen
Where The Coin Fell
Bled Out
Us In Half
A Battle Cried
With All The Indifference
In The Game
The Signal.
Exit North (steve jansen)
Anyway, Still
Exit North Records
Soft and brooding, gentle and stirring: it's the new album from Steve Jansen & co, in which the players keep us guessing lyrically, musically, and rhythmically as they chop and change, divert and double down, hitting us with rambunctious barnstormers just when you expect a ballad to break out – we're going to be unpicking this opus for some time.
Their 2nd studio album 'Anyway, Still' continues the quartet's appetite for exploring provocative song structures. Weaving classic elements such as piano and strings into the layered threads of the band's material. Where intimacy and atmospherics give way to powerful dynamics, animated rhythms and grooves, driving distortions and crescendos in cinematic scale. Like excavators with uncompromising autonomy, Exit North relish the exploration of every nuance and detail of the recorded performance