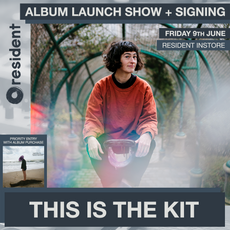 Goodbye Bite
Inside Outside
Take You To Sleep
More Change
This is When The Sky Gets Big
Scabby Head and Legs
Careful of Your Keepers
Doomed Or More Doomed
Stuck in a Room
Dibs
cassette (side b) bonus tracks
Goodbye Bite (acoustic)
Inside Outside (acoustic)
Take You To Sleep (acoustic)
More Change (acoustic)
This Is When the Sky Gets Big (acoustic)
Scabby Head and Legs (acoustic)
Careful Of Your Keepers (acoustic)
Doomed Or More Doomed (acoustic)
Stuck In A Room (acoustic)
Dibs (acoustic)
this is the kit
'Careful Of Your Keepers' album launch show
at resident music, brighton - Friday 9th june 2023 (all ages - under 14s can come for free)
the halls of resident have two causes for celebration! not only do we have a brand new record from one of our absolute top solo artists on the way, but she's also heading to our gaff on release day to celbrate with us. trust us the live version is not to be missed...
• running timings : 6:30pm start.
• no actual tickets are issued for the show – you will get an order confirmation & your name will be added to the guestlist - you'll just need to give your name on the door.
• the release date for physical copies of this album is 9th june 2023. you will be able to collect the album at the show.
• please wait for an order notification to show your album is ready to collect before coming in to collect your copy.
• this page is for entry to the This is the kit instore show - to purchase signed copies of 'Careful of your keepers' without entry to the show, please head here.