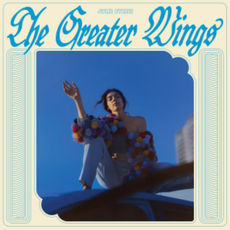 The Greater Wings
Portrait Of A Clear Day
Moonless
Summer Glass
Summer's End
Lightning Comes Up From The Ground
Flare
Conversation Is A Flowstate
Hope's Return
Death Is The Diamond
julie byrne
The Greater Wings 
Ghostly 
The long awaited follow-up to our 2017 album of the year, Julie Byrne's 'The Greater Wings' retains the gossamer vocals & amniotic, spectral folk melodies of 'Not Even Happiness', now enhanced with subtle synth textures, harp & strings.
A self-taught musician that has committed her life to her work, she now emerges from a deeply trying and generative period with the most powerful, lustrous, and life-affirming music of her career, 'The Greater Wings'. While they hold the plasticity of grief and trauma, the songs are universally resonant, unbridled in their devotion and joy, held up by the love and alliance of a chosen family.

Byrne leans further into atmospheres both expansive and intimate; the lush, evocative songcraft flows between her signature fingerpicked guitar, synthesizer, and a newly adopted piano, made wider by flourishes of harp and strings. It is the transcendent sound of resource, of friendship that was never without romance, of loyalty that burns from within like a heart on fire, and the life force summoned in unrepeatable moments — raw, gorgeous, and wild. The first album in over six years from American songwriter Julie Byrne is a testament to patience and determination, the willingness to transform through the desolation of loss, the vitality of renewal, and the courage to rise, forever changed.