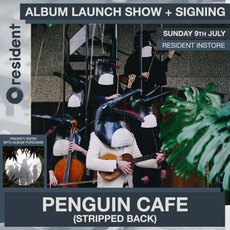 welcome to london
temporary shelter from the storm
in re budd
second variety
galahad
might be something
no one really leaves…
find your feet
lamborghini 754
goldfinch yodel
penguin cafe
'Rain Before Seven…' album launch show
at resident music, brighton - Sunday 9th july 2023 (all ages - under 14s can come for free)
we are going to have happy feet dancing along to the cool stripped back sounds of the penguin cafe celebrating the release of their latest album 'rain before seven...'.
• running timings : 6:00pm start.
• no actual tickets are issued for the show – you will get an order confirmation & your name will be added to the guestlist - you'll just need to give your name on the door.
• the release date for physical copies of this album is 7th july 2023. you will be able to collect the album at the show.
• please wait for an order notification to show your album is ready to collect before coming in to collect your copy.
• this page is for entry to the penguin cafe instore show - to purchase signed copies of 'rain before seven...' without entry to the show, please head here.