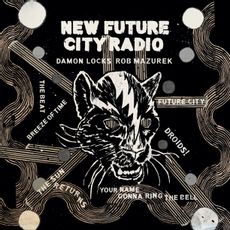 5-4-3-2-1
Yes!
The Sun Returns
Breeze Of Time
Your Name Gonna Ring The Bell
New Future
Droids!
The Concord Hour
Future City
10mins Past The Hour
Support The Youth (With Sound)
The Beat
Las Niñas Estan Escuchando (The Children Are Listening)
Flitting Splits Reverb Adage
Twilight Shimmer
Suspense In The Grip Of Suspense
Polaris Radio
Drop
Damon Locks & Rob Mazurek
New Future City Radio
International Anthem Recording Co.
In a hyperactive 40-minute, 18-track suite that runs like a boombox mixtape, the two prolific multi-media artists contemplate community, transformation, and the future through the programmatic format of a pirate radio station for the people.
'New Future City Radio' finds the duo creating a natural but innovatively-assembled blend of the sounds of those two projects, with Locks's BME-style sample-based sound collage creating compositional beds underneath the signature Orson Wells-like vocal delivery he's developed through his work with ESO, alongside Roland SP flourishes and arresting brass improvisations by Mazurek.

The album is also filled with vignettes as fractured radio transmissions, featuring contributions by guests including Roberto Lange (Helado Negro) and Mauricio Takara (Sao Paulo Underground). It's a deep avant-garde echo of the legendary Bomb Squad (Locks even sounding a bit like a tape-delayed Check D on the vox), with beat artifacts spanning the whole gamut from pre to post golden era hip-hop - mixing OG Brooklyn boombox sound with the sci-fi boom-bap of late 90s Def Jux and/or Dan The Automator's 75 Ark.