other titles...
See also...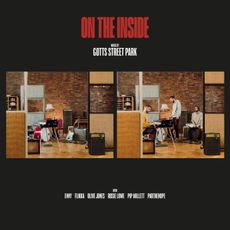 Summer Breeze (feat. Rosie Lowe)
Tell Me Why (feat. Olive Jones)
Shiloh
Got To Be Good (feat. Pip Millett)
Fuego
Mountains (feat. ENNY)
Strawberry Dream
Fool For Love (feat. Pip Millett)
Purple
Are You Still A Friend? (feat. Flikka)
Portofino (feat. Parthenope)
Walk Away
dinked edition 247

- Transparent red vinyl *
- Colour A2 poster, signed & numbered *
- 12" x 12" insert
- Limited pressing of 500 *

* EXCLUSIVE to Dinked Edition

Gotts Street Park
On The Inside
Blue Flowers Music
The acclaimed Leeds trio's genre-hopping odyssey is mesmerising, moving & marvellously inventive, with Every soulful snap of snare & smoky Prophet '08 synth on the record seemingly telling a story - These analogue-inspired visionaries are joyously carving something new from something old: Get involved.


The three companions, with an irrepressible energy & a shared love for 60's Motown, have been honing their creative chemistry for a decade & want their music to sound, on record, exactly as it does when they're in a rehearsal room writing it.
Adorning the album are a number of guest vocalists who elevate the tracks to new heights of soulful euphoria. Opener 'Summer Breeze' sees the band reunite with Rosie Lowe on a refreshing float of keyboard melodies. Jazz-folker Olive Jones hops on a Frank Ocean-meets-Amy Winehouse-esque beat for the romantic 'Tell Me Why'. Elsewhere, there are two collaborations with rising star Pip Millett ('Got To Be Good' & the sun-splashed 'Fool For Love') as well as a remarkable rap-soul reckoning with Peng Black Girls hitmaker Enny on 'Mountains'.

FFO: Kokoroko / Celeste / Amy Winehouse / North Downs / Surprise Chef / Babeheaven