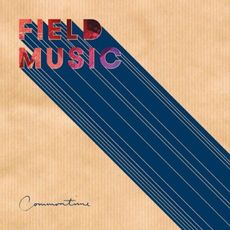 The Noisy Days Are Over
Disappointed
But Not For You
I'm Glad
Don't You Want To Know
What's Wrong?
How Should I Know If You've Changed?
Trouble At The Lights
They Want You To Remember
It's A Good Thing
The Morning Is Waiting
Same Name
Stay Awake
Field Music
commontime
Memphis Industries
the real joy of the brewis brothers is that no-one else really does what they do; the interweaving vocals, the rhythmic gear changes, the slightly off-chords, but with the sensibility that keeps them within touching distance of pop music.
Where 2012's 'Plumb' was an album of vignettes & segues, their 6th studio album, 'Commontime', edges towards what people might dare to call "proper songs". Field Music have never shown off their unashamed love of choruses quite like they do here. Lyrically, Peter & David continue to mine that inexhaustible seam wondering how on earth we ended up here, in this situation, as these people. Musically they wander through a soundworld that takes in 10cc, talking heads, steely dan, roxy music & queen but twists them all into a jerky but cohesive aural delight. "balances the Brewis brothers' predilection for unusual song structures & unconventional instrumentation with a decidedly grown up narrative" 7.8/10 - pitchfork

natasha recommends: "at 1st, the pace, complexity & intensity of the brewis brothers' latest oeuvre was a little overwhelming (they never sit still!) but slowly slowly, song by song, 'commontime' has become my go-to pick-me-up album. sheer joy!"