other titles...
See also...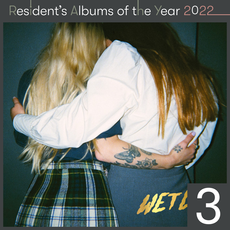 Being In Love
Chaise Longue
Angelica
I Don't Wanna Go Out
Wet Dream
Convincing
Loving You
Ur Mum
Oh No
Piece of Shit
Supermarket
Too Late Now
wet leg
wet leg
domino
A debut that came out of nowhere, when nothing good was happening, from a place not really renowned for its musical output.
In many ways, this energetic duo from the Isle of Wight owned 2022. "On the chaise longue, on the chaise longue, on the chaise longue, all day long". We were all happy enough to frolic along with the girls' bouncy lockdown song. But the question was, could Rhian Teasdale & Hester Chambers get up from their reclining position & deliver a whole album that matched up to that distinctive blast of late twenty-something joie-de-vivre? Well, you know what?....it turns out they could! And they gave us something of real substance. Something enduring. Something with legs, you might say.
Their youthfulness never manifests as naivety or lacks in proficiency & if their fresh faces hadn't been plastered all over everything, you'd be forgiven for thinking they'd grown up in the age of early 90's slacker indie & shoegaze. They're obviously indebted to both but they build crushing guitars, driving rhythms, surf twang & dry, sassy wit into the most convincing & memorable collection of maudlin musings & thumping indie anthems we've heard in years. We couldn't better their profile blurb: "Wet Leg is sad music for party people and party music for sad people". Exactly this.
"More than justifies the hype...two-minute songs that are communal acts of joy." - Loud & Quiet