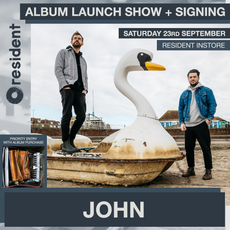 At Peacehaven
Media Res
Côte D'Adur
A Submersible
A Whole House
Service Stationed
Construction SiteSummer_22
Trauma Mosaic
Riddley Scott Walker
The Common Cold
JOHN
'A Life Diagrammatic' album launch show
at resident music, brighton - saturday 23rd september 2023 (all ages - under 14s can come for free)
If you follow any of our socials you will know that we love john! Any opportunity to get to see them, you can bet there will always be resident representation at their show. SO when we were offererd a John instore we snapped it up quicker than you can say john!
• running timings : 6:30pm start.
• no actual tickets are issued for the show – you will get an order confirmation & your name will be added to the guestlist - you'll just need to give your name on the door.
• the release date for physical copies of this album is 22nd september 2023. you will be able to collect the album at the show.
• please wait for an order notification to show your album is ready to collect before coming in to collect your copy.
• this page is for entry to the JOHN instore show - to purchase signed copies of 'a life diagrammatic' without entry to the show, please head here.