other titles...
See also...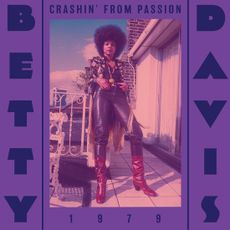 Quintessence Of Hip
She's A Woman
No Good At Falling In Love
Tell Me A Few Things
I've Danced Before
You Make Me Feel So Good
I Need A Whole Lot Of Love
Hangin' Out In Hollywood
All I Do Is Think Of You
Crashin' From Passion
You Take Me For Granted
Betty Davis
Crashin' From Passion (first time on vinyl!)
light in the attic
Betty expanded her palette for this super cool passion project - it's a little more nuanced, with less of the burning rage that informed her earlier work, but still no less fierce for it.
'Crashin' From Passion' was her most musically diverse, blending elements of reggae and calypso, jazz, dark synth-pop, and disco. Equally exploratory are Davis' vocals, as she trades in her signature sass and snarls for more nuanced stylings. Among the album's few funk tracks is "Quintessence of Hip," in which Davis hails musicians like Bob Dylan, Billie Holiday, Stevie Wonder, and John Coltrane, while deftly integrating elements of their work. The song also offers a moment of stark vulnerability, as she sings, "Isn't it rich? Isn't it queer? Losing my timing so late in my career." It would prove to be a prophetic line in the months to follow.

The mixing process was mired by artistic differences and then cut short, amid the death of Davis' beloved father. Bereft and exasperated, Davis returned home for the funeral, setting into motion her retirement from the music industry. 'Crashin' From Passion', meanwhile, would be shelved for 15 years and licensed for a CD-only release, without Davis' consent, in the '90s. This 2023 edition of the album, made with Davis' full approval and cooperation, marks its first official release and first time ever on vinyl.