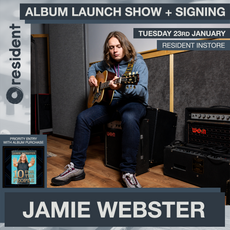 better day (featuring brooke combe)
voice of the voiceless (album mix)
lovers in the supermarket
dolly bird
fickle fran (featuring billy bragg)
looking good
sing your tears
the boy (chapter 1)
the girl (chapter 2)
something to eat
how do you sleep at night?
Jamie Webster
'10 For The People' Album Launch Show
at resident music, brighton - tuesday 23rd january 2024 (all ages - under 14s can come for free)
jamie webster's heading to 'this place' to indulge us in an early listen of the new album live in the shop!
as this event is before release date, you will not be able to pick up your copy of the album on the night, but we will have prints available for you to get signed at the event.
•running timings : 6:30pm start.
• no actual tickets are issued for the show – you will get an order confirmation & your name will be added to the guestlist - you'll just need to give your name on the door.
• priority entry will go those who purchase the album with instore access. if we have space for additional entries on the day, we will be able to let extra people in.
• this page is for entry to the jamie webster instore show - to purchase signed copies of '10 for the people' without entry to the show, please head here.