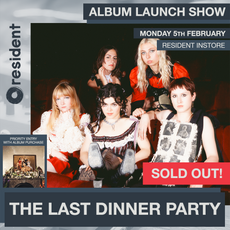 prelude to ecstasy
burn alive
caesar on a tv screen
the feminine urge
on your side
beautiful boy
gjuha
sinner
my lady of mercy
portrait of a dead girl
nothing matters
mirror
The Last Dinner Party
'Prelude To Ecstasy' Album Launch Show
at resident music, brighton - monday 5th february 2023 (all ages - under 14s can come for free)
sold out!!
it's no secret that between us residents we've seen this band a fair few times & it's clear to see why the buzz has been so raucous- you'll be especially lucky to see them in a venue as intimate as our shop.
• running timings : 6:30pm start.
• please note there will not be a signing at this event
• no actual tickets are issued for the show – you will get an order confirmation & your name will be added to the guestlist - you'll just need to give your name on the door.
• the release date for physical copies of this album is 2nd february 2024. you will be able to collect the album at the show.
• please wait for an order notification to show your album is ready to collect before coming in to collect your copy.
• priority entry will go those who purchase the album with instore access. if we have space for additional entries on the day, we will be able to let extra people in.
• this page is for entry to the last dinner party instore show - to purchase copies of 'prelude to ecstasy' without entry to the show, please head here.