Courtney Barnett
sometimes I sit and think, and sometimes I just sit
marathon artists
---
we didn't think it was possible to fall for this super-talented aussie any harder than we did when we first heard her back in 2013 but flippin' heck - she's gone & blown our minds with this one.
being billed as her debut album proper (apparently merging 2 eps together didn't count as a debut?), all concerns about her "going mainstream" now she's grabbed the attention of the wider world are instantly dispelled. she has in fact made a rawer, rougher & louder album than we could have hoped for. it brings Barnett's incisive vision into stark, unflinching focus; her wit sharpened to a knife edge, her melodies more infectious. Mixing witty, often hilarious observations with devastating self-assessment over a beguiling collection of songs, she's brilliantly literate without being pretentious. the voice of a generation & one we'll happily have represent us, thanks.


natasha recommends: it's so rare that an artist grabs my attention lyrically but this aussie lady is a rare exception. coupled with her raw grungy-guitar, her primal reaction to modern life is really captivating.
derry recommends: the best lyricist in rock right now but crucially paired with the music to back it up. who thought anyone could make grunge sound so effortlessly clever?

garry recommends: casual punk-pop genius, like an aussie kate nash transported to ny circa 1976.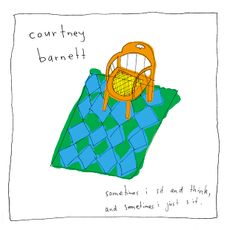 3
Standard CD / LP:
Elevator Operator
Pedestrian At Best
An Illustration Of Loneliness (Sleepless In New York)
Small Poppies
Depreston
Aqua Profunda!
Dead Fox
Nobody Really Cares If You Don't Go To The Party
Debbie Downer
Kim's Caravan
Boxing Day Blues



CD 1 / LPs
Elevator Operator
Pedestrian At Best
An Illustration Of Loneliness (Sleepless In New York)
Small Poppies
Depreston
Aqua Profunda!
Dead Fox
Nobody Really Cares If You Don't Go To The Party
Debbie Downer
Kim's Caravan
Boxing Day Blues
CD 2 / Download Card:
Lance Jr (Live At Electric Lady Studios)
Canned Tomatoes (Live At Electric Lady Studios)
Scotty Says (Live At Electric Lady Studios)
History Eraser (Live At Electric Lady Studios)
Avant Gardener (Live At Electric Lady Studios)
David (Live At Electric Lady Studios)
Close Watch