other titles...
See also...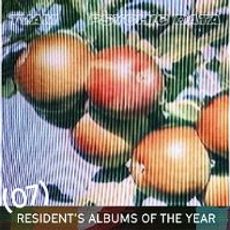 Psychic Data
Narcissus
Ident 7
Porsche Majeure
CRC
Bitplain
These Are Not Your Memories
Ident 9
Gas & Air
Total Immersion'
TVAM
PSYCHIC DATA
Psychic Data
Ooooo – crunchy electro-psych-goth-industrial-drone-shoegaze – there's a bit of everything we love in here and consequently, we've become more than a little obsessed with processing 'Psychic Data'.
The Wigan-based producer, Joe Oxley, first piqued our interest a few years back with his debut single 'No Explanations', released in 2015 on Static Caravan – a slab of psychedelic surf punk that sat comfortably alongside Thee Oh Sees. We've since been lucky enough to witness his live show a few times – a one man, guitar and pedal set up with a dodgy old TV nostalgically showing black and white grainy cut up videos, juxtaposed by his hypnotic, pulsing, futuristic chug.

Oxley has taken his sweet time with getting this record together and although some of these tracks have been around for a number of years now, this in no way feels like a collection of stuff he had kicking about. 'Porsche Majuere' (2015), 'Gas And Air' and Total Immersion' (both 2016) are all included on the album but they are fleshed out with a set of equally progressive and ingenious musical creations. Fuzzy guitars, distorted keyboards and a shredding pace – there's not one weak track here. He's in a rich vein of form, conjuring up a magnificent record that has all the hallmarks of a future cult classic.

The record pulls from many different musical reference points. It most immediately recalls German electro-punks DAF (particularly 1981's 'Der Mussolini') and from the other side of the water from a few year's earlier, New York's electronic pioneers, Suicide. The impressive spectrum of influence is also cited as spanning Boards of Canada's irresistible nostalgia, My Bloody Valentine's infinite noise and to these ears, there's more than a nod to Ride's 'Going Blank Again'-era shoegaze mastery.

Self-produced and home-recorded, the album was mixed by the steady hands of Dean Honer (Moonlandingz, International Teachers Of Pop, Add (N) To X). 'Psychic Data' would be right at home on Geoff Barrow's Invada label (home to Beak> and The KVB), not least because 'Porsche Majuere' sounds like it was made for the 'Drive 2' soundtrack, should it ever materialise beyond our imagination.
It's a fairly uneasy listen with a prevailing sense of doom running throughout. It takes us on a nocturnal journey through an urban landscape – along the rows of long-closed shops with their shutter eye-lids closed for the night, past the pounding clubs spilling out onto the streets, down the dimly lit dirty alleys, across the derelict wasteland and by the time we reach the end of the album, the sun is rising, we're nearly home and there's a beautiful clarity emerging. Reenergised. Revitalised. Ready to take on the world.
"Wigan's premier bedroom epic rave shoegaze soundtrack creator" – the quietus

"it's like someone took spiritualized to the club!!" - lauren laverne