crack cloud
pain olympics
meat machine
---
a band that could very loosely be described as post-punk/new wave, this multitudinous collective have done the impossible! They've unanimously charmed each and every resident with their vastly genre-fluid, post-everything game changer.
Melding together strands of angular post-punk, talking heads-esque new wave and a romp through heaving streets of hip-hop, jazz, psychedelia, wonky synth-pop and choral vocals, each member leaves their own unique fingerprints on a constantly evolving sound. while frontman and lyricist Zach Choy is in many ways the face of the group, the collective is one founded on equality, and in his cryptic lyrical blending of poetics, polemics and personal experience, Choy is truly the mouthpiece of something far larger than himself. "what is evident is their total dedication to creating music that is totally novel and bold" 9/10 – loud & quiet.
Nat says: "Mind-bendingly brilliant live. Mind-bendingly brilliant on record. Anarchic, uncompromising, colourful post-punk for fans of Black Midi, Squid & Wire."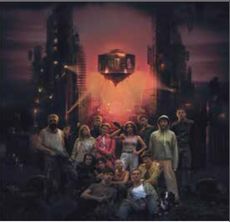 Tracklist
Post Truth (Birth of a Nation)
Bastard Basket
Somethings Gotta Give
The Next Fix (A Safe Space)
Favour Your Fortune
Ouster Stew
Tunnel Vision
Angel Dust (Eternal Peace)

dinked edition 52
· 180 g Dark Green Vinyl *
· 7" of 2 unreleased tracks *
· Numbered Edition *
· Gatefold Sleeve
· Download Code
*Exclusive to Dinked Edition