Sea Girls
open up your head (OUTSTORE album bundle - chalk)
polydor
---
**event update - 17th september 2021**
we are pleased to finally confirm a new date for this show!
>> If you have booked for this show, you will have received an email on Friday 17th September confirming the running times & any entry requirements. Your ticket will be emailed by See Tickets by Monday morning. Please check your junk folder if you receive nothing by then & contact [email protected] with your order number <<
SEA GIRLS
"OUTSTORE EVENT"
SOLD OUT!

TUES 21st SEPTEMBER 2021 rescheduled date - all existing tickets remain valid
AT CHALK, BRIGHTON
14+
Running Times:

Doors : 7pm
On Stage : 8pm latest (please arrive in plenty of time as we can't guarantee getting you in on time otherwise)

please note:
>> all events tickets are non-refundable so please ensure you can definitely make the date before booking. if a show is rescheduled, you will have a deadline by which you will need to notify us if you are unable to make the new date.
>> this has been booked as a full capacity, non-socially distanced show, operated within the venue's policies. you are most certainly encouraged to do a lateral flow test prior to attending the show but it will not be a condition of entry. please do not attend if you, or anyone you have had close contact with immediately prior to the event, have symptoms or have tested positive for covid.
>> you will receive an email from us a few days prior to the event confirming how the event will be running & if there are any changes to the operating policy or new requirements for entry
---
***TICKETS WILL NOT BE POSTED - PLEASE SELECT THE PICK UP IN SHOP OPTION (but no need to collect anything from the shop as you will receive an E-ticket from SeeTickets a few days in advance of the show (Our website just doesn't have an option that reflects this!) ***.
---
After taking 2019 by the scruff of the neck, the band have continued to ride their blistering trajectory with the announcement of their emotionally charged, deeply personal, hook laden debut album 'Open Up Your Head' - out August 14th on Polydor. They would have loved to have celebrated this with you in the Summer but with the situation as it stands, they can't commit to a date near the album release & as they knew you'd be happy to wait, they've booked a date in now for much later in the year. Their adrenaline-heavy, jagged guitar-pop brilliance has seen them garnering an amazing live reputation so grab the opportunity to see them now before they take over the festival headlines of the future.

---

TERMS AND CONDITIONS

* please read the following before placing your order
1. This event will not have printed tickets. When you purchase a ticket, you will be agreeing to us passing on your details to the venue in order for them to send you an e-ticket a few days before the event. This will be a one-off occurrence and your details will not be retained. If you do not want this to take place, please contact us as soon as you place your order on [email protected] e-tickets are 1 per person - dupe orders will be refunded.

2. You will receive an automated confirmation that your order has gone through, followed by another confirmation within 24 hours once we've added you to the guestlist (please double check your email address is correct when placing your order and check your SPAM folder before contacting us if you don't receive this confirmation).

3. You will be able to collect the album from the shop from Friday 14th August after 9am.

- As there Is an album signing session after this event, all albums that aren't collected from the shop by 5pm on the day of the show will be taken to the show for collection from the venue (Chalk).
- Tickets are not physical and the venue will issuing E-tickets. If you plan on ordering a ticket only option (although be aware that the signing will be for albums only), please select 'pick up in shop' as your checkout option.

4. Please read any subsequent communication you receive from us in case we need to notify you of any changes to the advertised show.

5. Tickets are non-transferable

6. We cannot process any exchanges or refunds for your album after the event.

7. All physical copies of the album need to be collected from Resident (27-28 Kensington Gardens, Brighton) by 31st December 2021 as we do not have room to store stock long term. Any items uncollected by this date will be disposed of (in a kind & ethical manner!) – or more likely donated to a good cause.

8. Please arrive in plenty of time to get into the venue (there may be queues), buy a drink, put your coat in the cloakroom etc. Sea Girls will be on stage promptly.
9. As this is a 14+ event, please bring ID if you think you might need it to get served at the bar.
---
for disability access requests, please contact [email protected]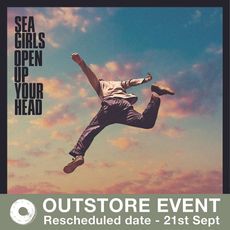 Tracklist
transplant
all i want to hear you say
do you really wanna know?
lie to me
call me out
closer
forever
weight in gold
ready for more
violet
shake
damage done
you over anyone
moving on
*** Please read all Terms & Conditions before placing your order. Questions can be emailed to [email protected] ***