Declan McKenna
zeros ("outstore" album bundle)
columbia
---
event update 4th August 2021 :

As you may already have heard, Declan is unfortunately having to postpone his outstore shows, yet again.

We received this message from his team:
"Sad to announce we're postponing our record store shows next week as some of our crew have had to isolate."

However, the good news is that we have worked swiftly with the label, artist management & venue to secure a new date to make sure this event can still go ahead, albeit at a much later date.

The new date for this re-rescheduled event is Monday 25th October.

All tickets remain valid.
If you have booked a ticket for the event prior to this date, you will have been contacted directly by email.

Resident & One Inch Badge present...

Declan McKenna
"Live semi-acoustic Outstore at Chalk, Brighton"

Friday 13th August, 2021 at Chalk, Brighton
Monday 25th October, 2021 at Chalk, Brighton

14+
All existing tickets remain valid for new date.
Evening show. Time tbc.

please note:
>> all events tickets are non-refundable so please ensure you can definitely make the date before booking. if a show is rescheduled, you will have a deadline by which you will need to notify us if you are unable to make the new date.
>> this has been booked as a full capacity, non-socially distanced show, operated within the venue's policies. you are most certainly encouraged to do a lateral flow test prior to attending the show but it will not be a condition of entry. please do not attend if you, or anyone you have had close contact with immediately prior to the event, have symptoms or have tested positive for covid.
>> you will receive an email from us a few days prior to the event confirming how the event will be running & if there are any changes to the operating policy or new requirements for entry

***tickets will not be posted - please select the pick up in shop option (but no need to collect anything from the shop as you will receive an e-ticket from seetickets a few days in advance of the show (our website just doesn't have an option that reflects this!) ***.
---
as with all events at the moment, we are making bookings full of hope & optimism that they will take place, whilst also being prepared for the fact that they may need to be rescheduled. if this turns out to be the case, we will always guarantee that your purchase will still be valid for the new date.

terms and conditions
* please read the following before placing your order
1. this event will not have printed tickets. when you purchase a ticket, you will be agreeing to us passing on your details to the venue in order for them to send you an e-ticket a few days before the event. this will be a one-off occurrence and your details will not be retained. if you do not want this to take place, please contact us as soon as you place your order on [email protected]

2. you will receive an automated confirmation that your order has gone through, followed by another confirmation within 24 hours once we've added you to the guestlist (please double check your email address is correct when placing your order and check your spam folder before contacting us if you don't receive this confirmation).

3. tickets are not physical and the venue will issuing e-tickets. if you plan on ordering a ticket only option, please select 'pick up in shop' as your checkout option.

4. please read any subsequent communication you receive from us in case we need to notify you of any changes to the advertised show.

5. we cannot change any names on the guestlist after thursday 21st October 2021.
6. we cannot process any exchanges or refunds for your album after the event.

7. all physical copies of the album need to be collected from resident (27-28 kensington gardens, brighton) by 30th October 2021 as we do not have room to store stock long term. any items uncollected by this date will be disposed of (in a kind & ethical manner!) – or more likely donated to a good cause.

8. please arrive in plenty of time to get into the venue (there may be queues), buy a drink, put your coat in the cloakroom etc. declan will aim to be on stage promptly.
9. as this is a 14+ event, please bring id if you think you might need it to get served at the bar.

for disability access requests, please contact [email protected]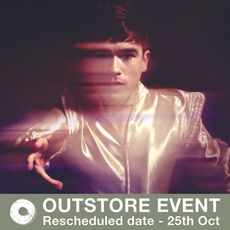 Tracklist
you better believe!!!
be an astronaut
the key to life on earth
beautiful faces
baniel, you're still a child
emily
twice your size
rapture
sagittarius a*
eventually, darling

*** please read all terms & conditions before placing your order. questions can be emailed to [email protected] ***