idles
Ultra Mono ("outstore" album bundle)
Partisan Records
---
***NEW DATE MONDAY 13TH SEPTEMBER 2021***
Existing tickets will be automatically transferred over
Resident & Lout present

IDLES
live "outstore" at concorde 2 brighton
monday 13th september 2021 -
14+, under 16s to be accompanied by an adult

doors - 7:30pm
curfew - 11:00pm
please note:
We are past the deadline for adjusting any names on the guestlist
& cannot process any more requests on this outstore.
>> all events tickets are non-refundable so please ensure you can definitely make the date before booking. if a show is rescheduled, you will have a deadline by which you will need to notify us if you are unable to make the new date.
>> this has been booked as a full capacity, non-socially distanced show, operated within the venue's policies. you are most certainly encouraged to do a lateral flow test prior to attending the show but it will not be a condition of entry. please do not attend if you, or anyone you have had close contact with immediately prior to the event, have symptoms or have tested positive for covid.
>> you will receive an email from us a few days prior to the event confirming how the event will be running & if there are any changes to the operating policy or new requirements for entry
***tickets will not be posted - please select the pick up in shop option (but no need to collect anything from the shop as you will be on a guestlist on the door - our website just doesn't have an option that reflects this!
---
as with all events at the moment, we are making bookings full of hope & optimism that they will take place, whilst also being prepared for the fact that they may need to be rescheduled. if this turns out to be the case, we will always guarantee that your purchase will still be valid for the new date.
---
TERMS AND CONDITIONS

* please read the following before placing your order

1. This event will not have printed tickets. When you purchase a ticket, you will be agreeing to us passing on your details to the venue in order for them to add you to the guestlist on the door. This will be a one-off occurrence and your details will not be retained. If you do not want this to take place, please contact us as soon as you place your order on [email protected] individual tickets are 1 per customer, duplicate orders will be refunded
2. You will receive an automated confirmation that your order has gone through, followed by another confirmation within 24 hours once we've added you to the guestlist (please double check your email address is correct when placing your order and check your SPAM folder before contacting us if you don't receive this confirmation).

3. Please note that if you choose the free "Pick Up From Store" option when you check out, you will be able to collect the album from the shop on Friday 25th September after 10am (pending any delivery disasters). If you choose to have your CD or record posted to you, please be aware that we will aim to have it with you for release day but we will be at the mercy of couriers and the Royal Mail. You will not be able to collect your album from the venue.

- Ticket-only bundles cannot be posted. Tickets are not physical and the gig will be using a guestlist. If you plan on ordering a ticket only bundle, please select 'pick up in shop' as your postage option.
4. Please read any subsequent communication you receive from us in case we need to notify you of any changes to the advertised show.
5. We cannot change any names on the guestlist after Monday 12th April 2021.

6. We cannot process any exchanges or refunds for your album after the event.
7. All physical copies of the album need to be collected from Resident (27-28 Kensington Gardens, Brighton) by 31st May 2021 as we do not have room to store stock long term. Any items uncollected by this date will be disposed of (in a kind & ethical manner!) – or more likely donated to a good cause.

8. There is currently no support planned for this show but please arrive in plenty of time to get into the venue (there may be queues), buy a drink, put your coat in the cloakroom etc as the band will be on stage promptly.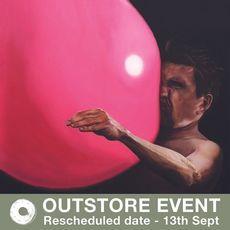 war
grounds
mr. motivator
anxiety
kill them with kindness
model village
ne touche pas moi
carcinogenic
reigns
the lover
a hymn
danke
*** please read all terms & conditions before placing your order. questions can be emailed to [email protected] ***



following the glorious success of 'brutalism' (2017) and 'joy as an act of resistance' (2018), idles return with their highly anticipated third album – 'ultra mono'.

sonically constructed to capture the feeling of a hip-hop record (including production contribution from kenny beats), the album doubles down on the vitriolic sneer and blunt social commentary of their past work. not far beneath the surface of their self-admitted sloganeering lies a deeply complex and brutally relevant album that chews up clichés and spits them out as high art for the masses.

this is momentary acceptance of the self. this is 'ultra mono'.
Vortex LP :


deluxe lp :


standard lp :
cd :
tape :