dinked editions!
limited exclusive vinyl pressings
limited exclusive vinyl pressings
---
DINKED is a collective of independent record shops who curate special, limited vinyl editions of album releases - exclusive packages that celebrate albums we love.
We negotiate exclusive colourways / additional artwork / signed / numbered / extra audio / bonus content / alternative sleeves.

We aim for these to be real fan editions so they tend to sell out fast & many have already become collectors' items.
---
These editions are only avilable from shops in the Dinked alliance. They are all limited runs. They are all from artists & labels we are keen to support. They are intended to help nuruture existing fanbases but more importantly, to hopefully find new fans. To help spread the word on artists & albums we love.

---

Dinked is a collective of 25 like-minded, independent record shops spanning the length & breadth of the United Kindom.

As independent record shops, we all operate entirely individually. This has many advantages in that we all offer a completely different experience, range of stock, atmosphere & set of knowledge. We're not governed by politics & don't answer to investors, so we can remain true & authentic.

However, with the number of challenges that trading on the high street presents us with these days & with increasing online competition, we wanted to establish something that allows us to work together more as a united front - celebrating our strengths & differences, whilst connecting & bonding us for a common cause. With that in mind, we established DINKED in september 2018.
We now work with artists & labels that we love to deliver exclusive editions of albums that we really want to support & promote. Whether that be a brand-new artist or an established one, it's all about helping to spread the word on music that we feel deserves a wider audience.

We have also recently introduced a Dinked Archive series in order to showcase catalogue releases through carefully curated, limited edition represses.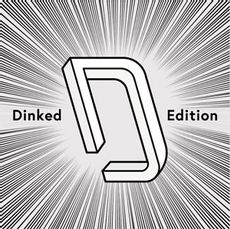 Tracklist
"When presented with the opportunity to create a Dinked Edition I jumped at it. In discussion with Juniore we could see no downside to getting involved with such a prestigious chain of shops - each unique but bonded by a desire to do right by both the record buying public and labels. It allowed us to invest in a far more lavish release than would ordinarily have made economic sense to a fledgling label such as ours. Thanks to a coordinated social media campaign from the Dinked chain which complimented our own pr perfectly, we sold out pretty much on the day of release. I believe Dinked to be an extraordinary initiative which can only be applauded for supporting indies in such a practical and positive manner."
- Graeme Sinclair, Outré Disque

"We loved working with Dinked on two releases in 2019, collectively coming up with creative ideas to make something exclusive for those fans who want something special. We've always been supported by indie retailers, so creating Dinked editions was a great way to celebrate that! Nat, Rupert and all of the Dinked shops have been incredibly hands on in helping to promote the special editions and the albums as a whole."
- Jonny Halliday - Fire Records

"The good folk at Dinked believe in great music, housed in beautiful packages and by being passionate, creative and supportive to the artists and labels involved they have continually delivered fantastic limited edition presses. Having this respected group of shops get behind our release has been wonderful and we look forward to working with them again in the future!"
- Ami Phipps - Mexican Summer