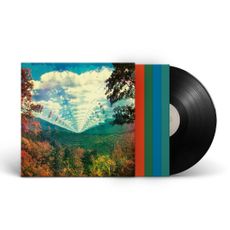 LP 1
Side A
1. It Is Not Meant To Be
2. Desire Be Desire Go
3. Alter Ego
Side B
4. Lucidity
5. Why Won't You Make Up Your Mind?
6. Solitude Is Bliss
LP 2
Side C
7. Jeremy's Storm
8. Expectation
9. The Bold Arrow Of Time
Side D
10. Runway Houses City Clouds
11. I Don't Really Mind
LP 3
Side A
1. Alter Ego
2. Runway Houses City Clouds
Side B
3. Why Won't You Make Up Your Mind?
4. It Is Not Meant To Be
LP 4
Side A
1. Demos/Ideas
Side B
2. Jam With Sav
TAME IMPALA
innerspeaker (10th anniversary edition)
fiction
To celebrate the 10th anniversary of its release, Tame Impala present a deluxe, 4LP reissue of their debut album InnerSpeaker.
Recorded in 2009 in Western Australia, InnerSpeaker is a psychedelic rock explosion that explores the joy of solitary creativity. triple j called it a "spiralling, trippy adventure", while Pitchfork's Zach Kelly said, "it's difficult to be so plugged-in to a vintage feel without the music seeming time-capsuled, but the band's vibrance help these songs sound very much alive." InnerSpeaker received critical acclaim upon its release: it won Australian Album of the Year at the j awards and Rolling Stone's Album of the Year, received multiple ARIA award nominations, was labelled 'Best New Music' by Pitchfork, and has since been featured in multiple lists of the Best Albums of the 2010s. This expanded deluxe edition of the album features the singles 'Solitude Is Bliss', 'Lucidity', 'Expectation' amongst the original album track list, plus: • A collage of album sketches • An unearthed, side-long jam • New mixes of tracks off the original album • Instrumentals • A deluxe 40-page booklet. InnerSpeaker's artwork is by Leif Podhajsky, and the album was mixed by Dave Fridmann. Tame Impala is Kevin Parker. He first toured the U.S. in 2010, playing small clubs for crowds of 200. A handful of trips to the U.S. later and thanks to the ravenous demand of fans for a transcendent live performance, Tame Impala has gone on to headline festivals and theatres around the world and release four full length albums - Innerspeaker, Lonerism, Currents and The Slow Rush. As a writer and producer Parker has collaborated with Travis Scott, SZA, Lady Gaga, Mark Ronson, Kanye West, Kali Uchis, Theophilus London, Miguel, A$AP Rocky and more.