other titles...
See also...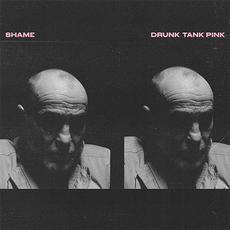 Alphabet
Nigel Hitter
Born in Luton
March Day
Water in the Well
Snow Day
Human
Great Dog
6/1
Harsh Degrees
Station Wagon
Shame
Drunk Tank Pink
Dead Oceans
We liked their debut a lot.
Loved it in fact. But then along came this beefcake, armed with its far rougher, more aggravating timbres & we realised we were ready to take our relationship with Shame to the next step. Whilst there's a deeper rage burning throughout the album, the red mist never clouds out their ability to write catchy, angular hooks that you can shout & pop along to. Cut betwixt these groovy punk anthems, lie their darkest, most engrossing songs to date, such as the strangely beautiful 'Born In Luton' or the crazed intensity of 'Snow Day' & the Squid-like 'Nigel Hitter'. At no point in the album does the octane dip - it just keeps pummelling you until you beg for it to start all over again.

the ambition here cannot be understated – the south London post-punks have dug deep and created a follow-up of tremendous depth and limber dynamic shifts, venturing into scorching new atmospheric territories with confident grace.

There are moments on 'Drunk Tank Pink' where you almost have to reach for the sleeve to check this is the same band who made 2018's 'Songs Of Praise'. Such is the jump Shame have made from the riotous post-punk of their debut to the sprawling adventurism and twitching anxieties laid out here. The genius of the album is how these lyrical themes dovetail with the music. Opener 'Alphabet' dissects the premise of performance over a siren call of nervous, jerking guitars, its chorus thrown out like a beer bottle across a mosh pit. Songs spin out and lurch into unexpected directions throughout here. There's a Berlin era Bowie beauty to the lovelorn 'Human For A Minute' while closer 'Station Wagon' weaves from a downbeat mooch into a souring, soul- lifting climax in which Steen elevates himself beyond the clouds and into the heavens. Or at least that's what it sounds like. From the womb to the clouds (sort of), Shame are currently very much in the pink. "This is a gentler, more introspective Shame - gone are the raucous frustrations of 'Songs Of Praise', leading way for a pensive, delicate new wave of punk" 8/10 – clash music, "packed with energy, snark and absolute bangers, it goes above and beyond what their debut managed to achieve in every conceivable way" 5/5 - dork.

DINA: Even though this album was written before the pandemic it could not have been more relatable to the past year for me. An angsty take on tackling self-identity & being at peace with spending time alone. This unrelenting, energetic & beautifully crafted record had to be my album of the year & even in a socially distanced seated show sounded absolutely amazing live. Definitely catch them on tour if you get the chance