other titles...
See also...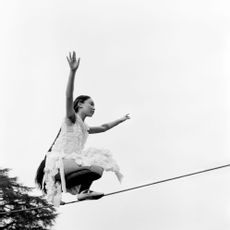 Black Hole
One Night
Shade of Yellow
One Foot in Front of the Other
Remembering My Dreams
Earl Grey Tea
Walk
Griff
One Foot In Front Of The Other
warner records
In Griff's hands, all of her experiences are turned into something uniformly positive, and make her particular model of effervescent bedroom pop feel fitting for a legion of young women to follow.
The announcement of Griff's new mixtape follows a breakout start to 2021. Griff has just been announced as the winner of this years BRITs Rising Star award, she recently made the top 5 in the BBC's prestigious Sound of 2021 poll (plus tips from the likes of MTV, Amazon Music and more), was hailed by Taylor Swift on social media, and appeared on Disney's record-breaking Christmas ad campaign with the beautiful 'Love Is A Compass'. The Ivor Novello nominated sensation also performed just her second ever London show with an incredible takeover of The Tate Modern, which is available to watch online now. One Foot In Front Of The Other features 7 incredible tracks, 'Shade Of Yellow', 'Remembering My Dreams', 'Earl Grey Tea', 'Walk', 'One Foot In Front of the Other' and 'One Night', as well as her smash hit 'Black Hole' which is Griff's first top 20 UK Airplay record, launched as Annie Mac's Hottest Record & Clara Amfo's Tune of the Week on Radio 1 and now A-List on Radio 1, Radio 2, BBC Local Radio and shows no signs of slowing down. Current single, 'Black Hole' confirms Griff's arrival amongst the big leagues of British Pop. Born to Chinese and Jamaican parents just out of Watford, she began making music by borrowing her brother's Logic: teaching herself how to produce songs in secret from her classmates (many of whom only found out what Griff was up to when they heard her on the radio whilst she was doing her A Levels). Indeed, Griff's is the type of curiosity and creative control that draws no boundaries between making beats, designing your own clothes, or shooting a music video on your iPhone under lockdown. And whilst it's easy to forget, Griff's rawly vulnerable lyrics on tracks like 'Black Hole' are a vivid reminder of how vast her potential still is. Here are acutely observed tracks on those teenage friendship ('1,000,000 X Better'), mental health ('Say It Again'), your stinging formative breakups ('Forgive Myself') and the importance of family (see viral ballad 'Good Stuff', and it's moving account of Griff's family fostering kids). In a pandemic – or a 'Black Hole' – Griff's future shines startlingly bright. 2021 is shaping up to be a huge year for Griff. She will be announcing the mixtape and launching the pre order as well as announcing her first UK tour on 19th March. Griff has been confirmed for a Vevo DSCR session, not to mention she has incredible debut TV performances on Later With Jools Holland and Seth Meyers in the US this March. Griff will cover Puss Puss Magazine in April with a 10 page feature in Clash and the Cover of Notion Magazine confirmed for May. Griff is an unstoppable pop force.