Orla Gartland
Woman on the Internet
New Friends Music Ltd
---
orla gartland instore

tuesday 24th august 2021 - 6pm
(all ages - under 14s can come for free)
preorder any format above with "instore entry" for guaranteed priority entry! *

(please note that this is a physical event in our brighton shop, not an online stream!!)

* priority entry will be given to those who preorder.

any remaining spaces will be made available on the day (although we are expecting this one to sell out well in advance)
Fast-rising Dublin singer-songwriter-producer Orla Gartland long-awaited debut album Woman On The Internet, due for release on 20th August 2021 via her own label New Friends In a world where we're taught to aspire to unattainable levels of perfection, Orla Gartland's unfiltered honesty is a breath of fresh air. Balancing normal insecurities and a selfdeprecating wit with impressive levels of self-reliance and steely determination, the Dublinborn, London-based singer-songwriter/producer has never pretended to be anything other than a work in progress, and has always used her music as a vehicle for self-discovery.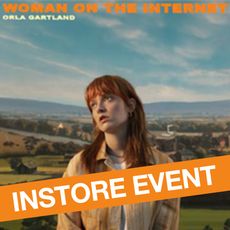 Tracklist
Things That I've Learned
You're Not Special, Babe
More Like You
Over Your Head
Zombie!
Madison
Do You Mind?
Codependency
Pretending
Left Behind
Bloodline / Difficult Things