other titles...
See also...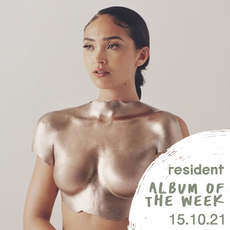 I Don't Mind
19th Floor
Poison
Trouble
When You Were Mine
To Lose Someone
Unlearn You
Kingdom
Feet Don't Fail Me Now
Wild Jasmine
Skin
Power
Theek Ache
Joy Crookes
Skin
insanity records
It's rare to find a voice that even comes close to Amy Winehouse's legacy but Joy's bombastic debut of old soul is up there.
It infuses her smoky croons with her infectious charisma & pits them against a fiery, jazz-flecked production. There's surely a Bond theme in the waiting!
Arriving fully formed and brimming with confidence, crookes' debut is a bombastic old soul walloper that pits joy's smokey croons against fiery, jazz-flecked, winehouse-ian production. 'Skin' is a hugely personal, gamechanging body of work from one of the UK's boldest and brightest young talents. Joy celebrates the announcement by sharing the title track 'Skin', written by Joy, Danny Casio and Matt Maltese, a song Joy says "Out of all the songs I have ever written I think 'Skin' is the most important to me. It is simple musically and lyrically, the lyrics are literal and self explanatory: 'The skin that you're given, was made to be lived in. You've got a life, you've got a life, worth living'. "It exists for anyone who needs reassurance and hope. Mental health is something everyone has to deal with to varying degrees, and in particular the last 18 months have taken their toll. I wrote this song for a loved one last year who was at a stage where he thought his life was no longer worth living. I hope the song offers something to everyone battling with their demons and the people around them who are supporting them." The album features lead single 'Feet Don't Fail Me Now'; bright and breezy on the surface, with a thumping, addictive bassline, the track is full of blistering irony, in which Joy explores the pitfalls of online activism. 'Feet Don't Fail Me Now' premiered as Annie Mac's Hottest Record on BBC Radio 1 last month, and went on to be both Annie and Clara Amfo's Tune of the Week, as well as winning praise from the likes of the Observer, NME, Billboard, Sunday Times Culture, and more. Its accompanying video, directed by Taz Tron Delix (Stormzy, Headie One, Berwyn), is truly celebratory, shot around London featuring Joy and a supporting cast reflective of the multicultural landscape of Joy's hometown. A collection of songs built and honed throughout her adolescence and into her early twenties, and finessed last year within the most turbulent of circumstances. Touching on topics such as mental health, relationships, and politics all with grace and sensitivity, Joy has created what can only be described as a truly special body of work that is both perfectly of the moment, and entirely timeless. Speaking about the album, Joy explains "Skin is my debut album and the proudest work I have made to date. It is an auto biographical body of work covering subjects from casual sex to generational trauma, abuse of power and mental health. "I was fortunate enough to make this first album with the exceptionally talented producer Blue May. I sat across the whole production process and I'm proud to say I've been credited with Blue as a co executive producer. The majority of the album was made at the incredible Konk Studios; we also had the pleasure of recording an 18 piece string section at Abbey Road Studios in the famous Studio 2, and we recorded pick up vocals all over the place, from a random hotel room in East London, through to a home studio in Clapton. London is in the DNA of this album. "The word skin massively resonates with me as biologically it is one of the strongest parts of our bodies, however socially and externally it is often used against us. This juxtaposition is grappled with throughout the album; lyrically my album is effectively a collection of stories. The record consists of songs I wrote at the mere age of 15 up until 21. This is an album about my identity." A proud South Londoner of Bangladesh and Irish heritage, Joy Crookes is a singer-songwriter, a masterful instrumentalist, a Brit nominated rising star, and an artist who sees herself as part of a beautiful eco system of storytellers, mavericks, and salt of the earth Londoners. Her unique approach to storytelling within her songs, partnered with her infectious charisma has seen her become a treasured and trusted new voice both musically and across her social media. Joy uses her creativity as a tool to understand her own identity, her place in the world and her relationships within it.