holodrum
holodrum
Gringo Records
---
Propulsive, disco-infused synth-pop – an album heavy on euphoria, built atop crisp interplaying percussion & acid-flecked grooves.
YES!!
This is one heck of a super-group featuring members of Hookworms, Yard Act, Cowtown, Virginia Wing, Drahla & more!! As Holodrum, this is the seven-piece's debut album, but the interlocking grooves & hot headiness of their repeato-rock-via-CBGBs dopamine hits have in one way or other been fermenting for years.
The abrupt dissolution of Hookworms in late 2018 left a super massive black hole in our lives. Ultimately, the core of this talented septet comes from Sam Shjipstone & his former Hookworms bandmates Matthew Benn (synth/bass/production), Jonathan Nash (drums) & Jonathan Wilkinson (guitar), so you can imagine our excitement at hearing about this new project. Joining them are Emily Garner (vocals), Christopher Duffin (sax/synth) & Steve Nuttall (percussion). They've shared bands, mixed each other's records, promoted live shows and made music videos together in and around Leeds.

'Holodrum' crackles with the energy of the dancefloor - Tight drum claps, beaming saxophone skronk, strutting disco, ping pong synths, squelchy frequencies & cavernous reverb – underpinned at all times by a relentlessly propulsive rhythm section.

FOR FANS OF: Lonelady / Virginia Wing / Xam Duo / Gemma Cullingford / Sink Ya Teeth / Jane Weaver / Tom Tom Club / Liquid Liquid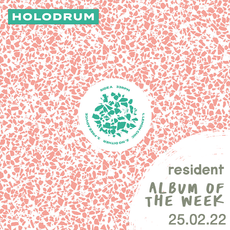 Tracklist
Lemon Chic
No Dither
Free Advice
Stage Echo
Low Light
Clean
hypercoster (flexi 7" exclusive)

Dinked edition 166

- Hot Pink Coloured Vinyl *
- Alternative Colour Disco Sleeve with Obi Strip *
- Hand numbered *
- Holographic Dinked Edition Sticker *
- Bonus flexi 7" with exclusive studio track *
- Limited Pressing of 500

* exclusive to dinked edition