other titles...
See also...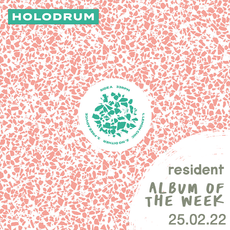 Lemon Chic
No Dither
Free Advice
Stage Echo
Low Light
Clean
hypercoster (flexi 7" exclusive)

Dinked edition 166

- Hot Pink Coloured Vinyl *
- Alternative Colour Disco Sleeve with Obi Strip *
- Hand numbered *
- Holographic Dinked Edition Sticker *
- Bonus flexi 7" with exclusive studio track *
- Limited Pressing of 500

* exclusive to dinked edition
holodrum
holodrum
Gringo Records
One heck of a 7-piece super-group featuring members of loads of bands we love: Hookworms, Yard Act, Cowtown, Virginia Wing, Drahla & more.
The interlocking grooves of their propulsive, disco-infused synth-pop are euphoric with crisp interplaying percussion & acid-flecked grooves. YES!!
Maybe Holodrum were destined to start at this point. This might be the first time they've all officially worked together, but between Emily Garner (vocals), Matthew Benn (synth/bass/production), Jonathan Nash (drums), Jonathan Wilkinson (guitar), Sam Shjipstone (guitar/vocals), Christopher Duffin (sax/synth) and Steve Nuttall (percussion) they've shared bands, mixed each other's records, promoted live shows and made music videos together in and around Leeds. As Holodrum, this is the seven-piece's debut album, but the interlocking grooves and hot headiness of their repeato-rock-via-CBGBs dopamine hits have in one way or other been fermenting for years. "When it comes to doing music most bands fall between two extremes of doing it for some goal or as an end to itself" says Shjipstone. "I think Holodrum is about the joy and complexity of living, and I just hope to god everyone gets to have a good time doing it." Ultimately the core of the group comes from Shjipstone and his former Hookworms bandmates Benn, Nash and Wilkinson.
After their abrupt dissolution in late 2018, the four of them spent six months apart; Benn still had Xam Duo, his ongoing project with Virginia Wing and some-time James Holden & The Animal Spirits live member Duffin, Nash remains vocalist and guitarist of long-running DIY rockers Cowtown and helms his solo project Game_Program; and Shjipstone plays guitar with Yard Act. However, the four of them missed the sixth sense synergy they'd built-up playing together over a decade and soon enough demos were being swapped and new ideas were discussed. The vision of a large live electronic ensemble formed quickly. Friends were added: Duffin and Nuttall – who was keen to resurrect the double percussion interplay that he and Nash had been exploring as part of motorik trio Nope – joined first. Then animator and VIDE0 singer Garner crystallised the line-up by joining on vocals. "Apart from Emily, all of us had actually played together before in a covers band at a New Year's Eve party at the Brudenell Social Club a couple of years ago, so we knew we could have fun together" says Benn. "So we set up to be a live party band early on. We wanted lots of people on stage having fun, playing for people that also wanted to have fun. It makes sense we take inspiration from bands like Tom Tom Club and Liquid Liquid; they were trying to help people to party at a point when New York was quite a scary and dangerous place – we're doing the same, albeit in the face of a decaying world and a global pandemic." Covid-19 hasn't given them much opportunity to do that yet, with two fledgling shows in late 2019 to their name before festival appearances at the likes of Bluedot, Sounds From The Other City and Gold Sounds were scuppered last year. However, the six tracks on Holodrum crackle with the energy of the dancefloor. Opening cut 'Lemon Chic' – described by Garner as her "workout track" – starts out sparsely, with tight drum claps and burbling synths holding a teetering suspense before the whole thing's prised open, allowing beaming saxophone skronk to shine in. Garner's vocals bob and weave around the syncopations of the track's building cacophony. It sets the stall for an album heavy on euphoria, built atop crisp interplaying percussion and acid-flecked grooves. At times Shjipstone provides a raw counterpoint on vocals, while elsewhere - like on the strutting, swirling disco of 'Free Advice' and 'Low Light''s late night ping pong synths - the pair indulge in playful call and response as the instrumentation builds and contorts around them. 'Stage Echo' provides a respite of sorts halfway through, a swirling, fever dream of a track that peaks with big squelchy frequencies and cavernous reverb, before the album returns to its repetitious exercises in body-