honeyglaze
honeyglaze
speedy wunderground
---
Complex yet comforting, fresh yet warmly familiar, energetic yet dreamy – be prepared to be covered in this sweet, sweet nectar.
When something pricks the ears of seminal producer Dan Carey & his team of merry taste-makers at Speedy Wunderground, we all know we have to pay attention, right? Well, this South London based, haiku-loving trio - comprising vocalist & guitarist Anouska Sokolow, bassist Tim Curtis & drummer Yuri Shibuichi - have recently emerged as a group from the hotbed of diverse talent nurtured by The Brixton Windmill & were snapped up by the prophetic label. It took us precisely one song to find out why! Obviously the option to work with them on a Dinked Edition of this incredible release was jumped on instantly & look what a beauty it's going to be...
'Honeyglaze' beautifully navigates its way though audibly picturesque soul-searching, mixing the personal with romanticised ideals in ways that are simultaneously heart-wrenching & humorous to a dead-pan effect. There's no one trajectory for Honeyglaze whose sonics veer between Julia Jacklin's masterful tune-smithery, Pip Blom's insatiable energy, Metronomy's distinctive instrumentation & the fireside honesty of Big Thief's alt-folk-rock.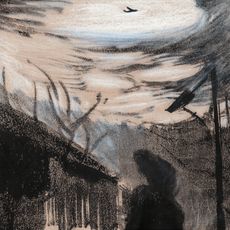 Tracklist
Start
Shadows
Creative Jealousy
I Am Not Your Cushion
Female Lead
Burglar
Half Past
Deep Murky Water
Young Looking
Souvenir
Childish Things
dinked edition 167

- Dark Green Vinyl *
- Transparent Orange FlexiDisc - 'Female Lead' *
- 4 exclusive art prints by the band *
- Limited Edition pressing of 500 *
* EXCLUSIVE to Dinked Edition