Superorganism
world wide pop
domino
---
superorganism instore + signing.
saturday 16th july 2022, 6:30pm
(all ages - under 14s can come for free)
preorder any format above with "instore entry" for guaranteed entry!
** we would strongly advise that you carry out a lateral flow test before attending the show. mask wearing is no longer mandatory **


Blasting back with thirteen tracks that strike a balance between artifice and earnestness, between sci-fi silliness and existential intensity, World Wide Pop is a showcase for Superorganism's newly deepened understanding of each other's interests and impulses. it's the kind of creative convergence you'd expect when online friends start spending time together IRL (their debut was completed before the whole band had ever been in the same room at the same time). Alongside the album announcement, Superorganism are pleased to reveal the first cut from the record, "Teenager". Featuring good friends and former tour mates Chai and Pi Ja Ma, "Teenager" celebrates holding onto the raw passion and emotion of those formative years and is a rejection of cynicism. Produced by Stuart Price (Madonna, The Killers), who Superorganism tapped to help them achieve the IMAX-sized sheen that their bedroom recordings have always aspired to. The resulting palette on "Teenager" and across the record melds millennium-era synth schmaltz with glitchy wild-eyed weirdness, a textural upgrade that never betrays Superorganism's signature playfulness. Superorganism have mutated and are now based around the core of Orono, Harry, Tucan, B and Soul but World Wide Pop also brings in an international set of collaborators including Stephen Malkmus, CHAI, Pi Ja Ma, Dylan Cartlidge as well as legendary musician and actor Gen Hoshino.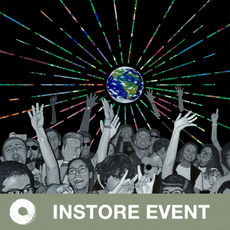 Tracklist
Black Hole Baby
World Wide Pop
On & On
Teenager (feat. CHAI & Pi Ja Ma)
It's Raining (feat. Stephen Malkmus & Dylan Cartlidge
Flying
Solar System (feat. CHAI & Boa Constrictors
Into The Sun (feat. Gen Hoshino, Stephen Malkmus & Pi Ja Ma)
Put Down Your Phone
crushed.zip
Oh Come On
Don't Let The Colony Collapse
Everything Falls Apart