other titles...
See also...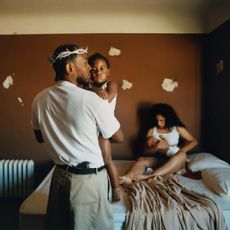 Big Steppers

1. United In Grief
2. N95
3. Worldwide Steppers
4. Die Hard ft. Blxst & Amanda Reifer
5. Father Time ft. Sampha
6. Rich (Interlude)
7. Rich Spirit
8. We Cry Together ft. Taylour Paige
9. Purple Hearts ft. Summer Walker & Ghostface Killah
Mr. Morale

1. Count Me Out
2. Crown
3. Silent Hill ft. Kodak Black
4. Savior (Interlude)
5. Savior ft. Baby Keem & Sam Dew
6. Auntie Diaries
7. Mr. Morale ft. Tanna Leone
8. Mother I Sober ft. Beth Gibbons of Portishead
9. Mirror
kendrick lamar
Mr. Morale & The Big Steppers
aftermath / interscope
The only rapper to have won a Pulitzer came out swinging on this one.
He's evolved yet again, with his ire angled at himself as often as it is at outside forces. It's a substantial, psychological tour de force that bangs equally as hard as the left turns land unexpected hits.