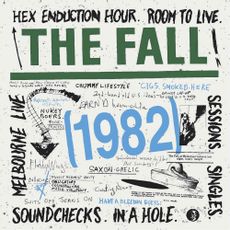 HEX ENDUCTION HOUR
1 THE CLASSICAL
2 JAWBONE AND THE AIR-RIFLE
3 HIP PRIEST
4 FORTRESS / DEER PARK
5 MERE PSEUD MAG. ED.
6 WINTER (HOSTEL-MAXI)
7 WINTER 2
8 JUST STEP S'WAYS
9 WHO MAKES THE NAZIS?
10 ICELAND
11 AND THIS DAY
ROOM TO LIVE
1 JOKER HYSTERICAL FACE
2 MARQUIS CHA-CHA
3 HARD LIFE IN COUNTRY
4 ROOM TO LIVE
5 DETECTIVE INSTINCT
6 SOLICITOR IN STUDIO
7 PAPAL VISIT
BONUS TRACKS
8 JOKER HYSTERICAL FACE
(BURY 27/04/82)
9 TOWN CALLED CRAPPY /
SOLICITOR IN STUDIO (LONDON
25/03/82)
10 HARD LIFE IN COUNTRY
(WELLINGTON 19/08/82)
11 DETECTIVE INSTINCT
(MANCHESTER
22/12/82)
12 ROOM TO LIVE
(ROTTERDAM
12/02/83)
13 WORDS OF EXPECTATION
(TORONTO 21/04/83)
SESSIONS – SINGLES –
SOUNDCHECKS
(JOHN PEEL SESSION
15/09/1981)
1 DEER PARK
2 LOOK KNOW
3 WINTER
4 WHO MAKES THE NAZIS?
(KAMERA SINGLE APRIL 82)
5 LOOK KNOW
6 I'M INTO C.B.
7 SESSION MUSICIAN
(BIERKELLER, LEEDS
05/11/1981)
8 JAZZED UP PUNK SHIT (666
CLUB, MANCHESTER
15/05/1982)
9 I'M INTO C.B. (STARS ON 45
VERSION) (FAGINS,
MANCHESTER 30/09/1981)
(MAINSTREET, AUCKLAND, NZ
SOUNDCHECK 20/08/1982)
10 AND THIS DAY
11 DEER PARK
12 AND THIS DAY (REVISITED)
(ASTORIA 2, LONDON
26/02/1987)
IN A HOLE
1 IMPRESSION OF J.
TEMPERANCE
2 THE MAN WHOSE HEAD
EXPANDED
3 ROOM TO LIVE
4 HIP PRIEST
5 LIE DREAM OF A CASINO
SOUL
6 PROLE ART
THREAT
7 HARD LIFE IN
COUNTRY
8 THE CLASSICAL
9 MERE PSEUD
MAG ED
10 MARQUIS
CHA-CHA
11 BACKDROP
IN A HOLE +
1 FANTASTIC LIFE
2 ENGLISH SCHEME
3 JOKER HYSTERICAL FACE
4 NO XMAS FOR JOHN QUAYS
5 SOLICITOR IN STUDIO
6 THE CONTAINER DRIVERS
7 C'N'C-BLACK NIGHT
8 LOOK, KNOW
9 WHO MAKES THE NAZIS?
10 GRAMME FRIDAY
11 SLAGS, SLATES ETC
PRINCE OF WALES HOTEL,
MELBOURNE, AUSTRALIA
02/08/1982
1 I FEEL VOXISH
2 HARD LIFE IN COUNTRY
3 I'M INTO C.B.
4 LIE DREAM OF A CASINO
SOUL
5 SOLICITOR IN STUDIO
6 TEMPO HOUSE
7 THE CLASSICAL
8 MARQUIS CHA-CHA
9 ROOM TO LIVE
10 HEXEN STRIFE
11 KNOT DEER PARK
12 TOTALLY WIRED
13 JOKER HYSTERICAL FACE
14 HIP PRIEST
the fall
1982- (2022 repress)
cherry red
Lavish 6CD box set of The Fall 's 1982, featuring their critically-acclaimed album 'Hex Enduction Hour' originally released in March 1982 on Kamera Records, closely followed by 'Room To Live' in September.
• Featuring the classic line-up of Mark E Smith alongside Steve Hanley (bass), Craig Scanlon (guitar), Karl Burns (drums), Paul Hanley (drums) and Marc Riley (guitar). This six-disc box set brings together those two classic albums alongside a host of John Peel sessions, Kamera singles, live performances and the group's live album 'In A Hole', recorded during their tour of New Zealand and originally released on Flying Nun Records. Also included in the box is a replica poster from the August 1982 show at the University of Canterbury in Christchurch, New Zealand and a replica press-release for 'Hex Enduction Hour'. Founded by its only constant member, Mark E Smith , The Fall formed in Manchester in 1976 and were one of the most prominent post-punk groups in the world. Musically, there may have been several stylistic changes over the years, but it was often characterised by an abrasive guitar- driven sound and frequent use of repetition, always underpinned by Smith's distinctive vocals and often cryptic lyrics. 'Hex Enduction Hour' was the fourth studio album by The Fall, building on their lo-fi production and featuring a two-drummer line-up. The album was recorded in Reykjavik, Iceland and Hitchin, Hertfordshire. 'Room To Live' was the fifth studio album by The Fall and was Marc Riley 's last album with the group. 'In A Hole' was recorded at the last show of the group's 1982 tour of Australia and New Zealand, at Mainstreet Cabaret in Auckland.