other titles...
See also...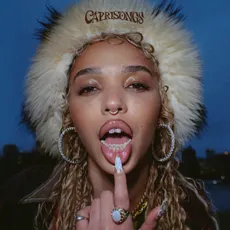 ride the dragon
honda (feat. pa salieu)
meta angel
tears in the club (feat. the weeknd)
oh my love
pamplemousse
caprisongs interlude (feat. solo)
lightbeamers
papi bones (feat. shygirl)
which way (feat. dystopia)
jealousy (feat. rema)
careless (feat. daniel caesar)
minds of men
track girl interlude
darjeeling (feat. jorja smith & unknown t)
christi interlude
thank you song
FKA TWIGS
CAPRISONGS
Young
there are few mixtapes we'd more gratefully receive than from fka twigs; this one's rippling with off-kilter avant-pop & glittering guests - this is awesome. Features guest appearances from The Weeknd, Jorja Smith, Pa Salieu, Rema, Shygirl, Unknown T and Daniel Caesar as well as a host of twigs' close friends and community.